Age may just be a number, but older generations have huge value.
The Blogfather dusts down the sawn-off to fire off a few volleys at pesky kids and ageism this week, being roused from a long slumber by the rallying call and words of industry greats George Tannenbaum, Jane Evans and Bob Hoffman.
I'd betcha LeBron James knows who Michael Jordan is. I'd bet Spielberg knows Welles
It's been 4 months of schtum from this forefather of forthright opinion.
Whilst I'm no stranger to a code of silence, this wise guy has been walloped with a sedative stint of writers' block. And no amount of mental muesli could dislodge my creative constipation.
I've treated blog writing as Dominic Cummings does his council tax.
Avoided it.
I digest digress. I'm not here to clobber Conservative cronies and much like their Test & Trace tactic, I'm just hoping I don't fuck this up too badly (at least you can get this on an iPhone 6).
Omertà over. Opinionated chops on.
We recently pulled a network agency worm out of the Big Apple and used it as topic-bait to catch one of advertising's biggest fish on Call to Action; copywriting legend George Tannenbaum.
In blissful, yet biting NY tones he tracked a trail through tomes of topics to vent eloquent fire in a two-parter you can feast on here (Part 1) and here (Part 2).
In the podcast equivalent of a Turducken (Google it), George tucked into one tasty, yet highly controversial topic that our industry is stuffed with: ageism.
Despite winning every major industry award and a client list covering IBM, Boeing, PayPal and General Motors, George was kicked out of Ogilvy aged 62.
George said:
"Ageism now is more like 'I don't want to payism'. Agency structure now is all about making owners richer, not about the clients."
The numbers don't lie, and to quote Bob Hoffman, "People over 50 represent about 45% of adults in the US, they represent about 6% of ad agency employees. While 75% of WPP employees are under 40, 24% of doctors and 26% of lawyers are. Apparently experience and maturity are valued quantities when your health or freedom may be at stake, but not so much when your business is on the line."
It's a shocking diversity imbalance. So when WPP CEO Mark Read said this...shit really kicked off.
"The average age of someone who works at WPP is less than 30 – they don't hark back to the 1980s, luckily."
Read's remarks (coming from a company with recent losses of £2.6 billion) stand as a glaring reminder of advertising's obsession with youth.
By undervaluing older staff, we undervalue expertise. In Part 1, George talks on working with and learning from ad legends Ron Rosenfeld and Len Sirowitz. Would George be the copywriting legend he is today if everyone in the New York agency scene in the 80s and 90s was under 30?
"I learnt who I wanted to emulate and I emulated them."
Saying "We don't hark back to the 80s" is a fat, flippant "Okay, boomer" to the likes of Bernbach, Ogilvy, Gossage, Abbot, Hegarty etc. As if decades of experience mean nothing because you've never run a TikTok campaign. On his Ad Aged blog, George said, "The other evening I said to my class, after they demonstrated some lacuna in their knowledge of advertising, 'how many people here have heard of Doyle Dane Bernbach?' One out of 12 raised their hand, and I'm not sure that she didn't think DDB was a banned 1960s pesticide. I said, 'I'd betcha LeBron James knows who Michael Jordan is. I'd bet Spielberg knows Welles. I know Melville knew King James.' "
The industry treats over 50s as creatively spent which is categorically bonkers when you consider they dominate the world's most coveted creative awards.
"Advertising is not like science and math where the brightest tend to excel while young. Advertising has more in common with literature and art. Artists and writers tend to do their best work in their 40's, 50's and 60's." – Bob Hoffman
"People over 50 are creative enough to dominate the Nobels, Pulitzers, Oscars, & Emmys but not creative enough to write a fucking banner ad" – Bob Hoffman @AdContrarian

— Giles Edwards (@Giles_Edwards) September 1, 2020
Notice how we don't question if a baker with 20, 30, or 40 years of experience can still make fresh pastries.

— Lee Clow's Beard (@leeclowsbeard) August 31, 2020
A demographic cleansing of over 50s risks abandoning one of our richest sources of creativity. Engineers, doctors and lawyers are generally paid a premium for experience. Why is this not the case in advertising?
George's latest collaboration with creative powerhouse Rob Schwartz on 'Dog Lovers For Joe' is darn brilliant and surely shows you don't need to teach an old dog new tricks.
We've been your age, you've never been ours.
Belief stands that young people are more carefree and radical with ideas challenging the status quo and in an increasingly digital industry, old folk don't stand a chance against their younger, tech-savvy "digital native" counterparts.
In a Call to Action episode with the Queen of "not giving a f*ckery", Jane Evans said:
"Young people do not seem to realise that we are digitally ambidextrous. We grew up in an analogue world and saw the digital world come up...We were active participants in the birth of tech.
Creative people, do you honestly think that when you turn 50 you're going to stop looking at culture? Our job is to know a little bit about a hell of a lot of things, so why would we stop doing that as we get older.
We've seen so much change, why do you think we're not prepared to see more or have the ability to create more?"
Kicking any creative daring to turn 50 out the door makes little financial sense when you consider that over 50s are "The most valuable generation in the history of marketing", outspending younger consumers in nearly every major category with their net worth 3x that of other generations.
Jane's other brilliant point came from her grandmother:
"We've been your age, you've never been ours. You really need clever older women like us to be writing the copy, as we will spot anything written by people younger a mile off".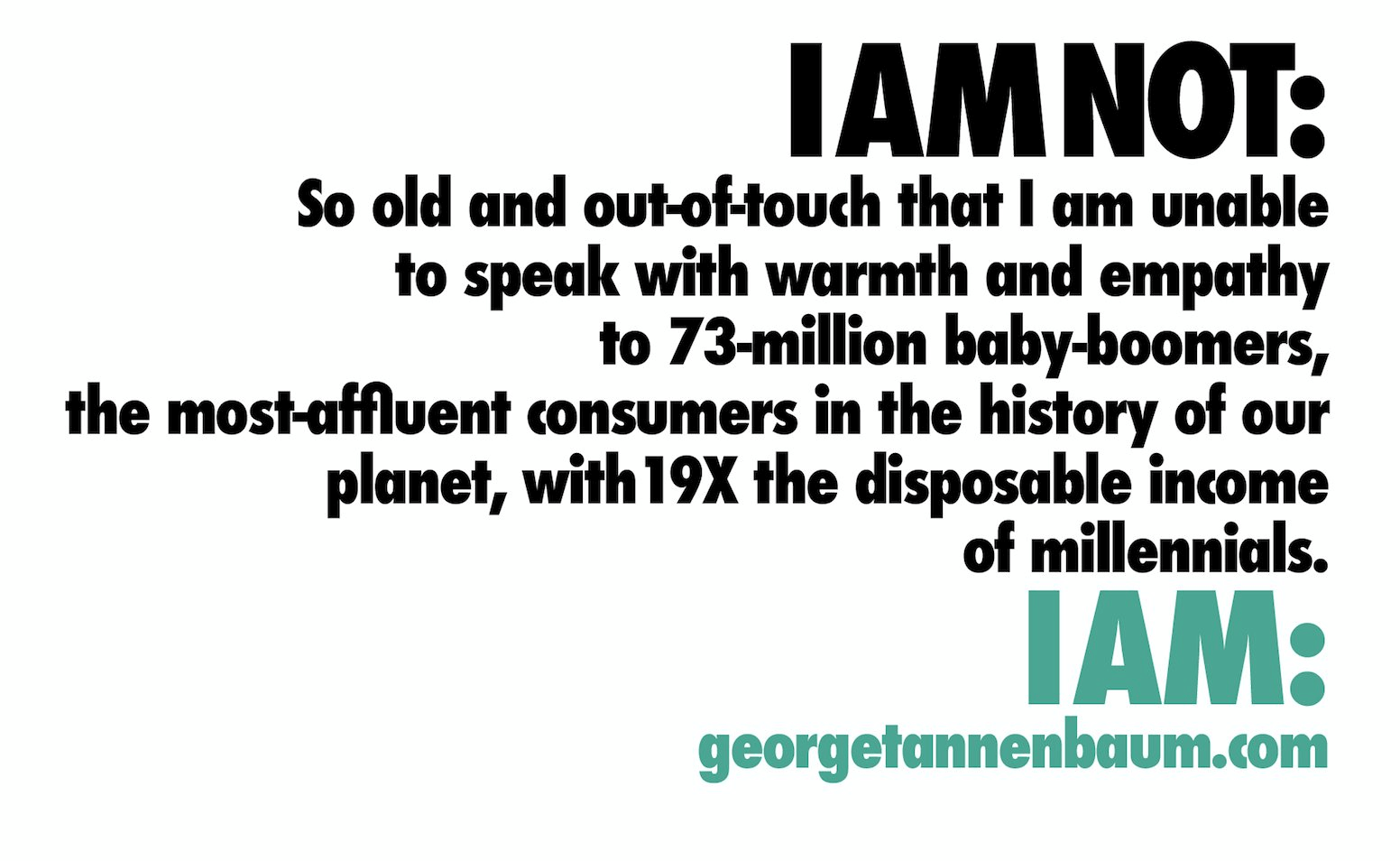 We need young challenging minds, but we also need experienced expert advisors
So why do we ignore a demographic with buying power equal to the 3rd largest economy in the world?
"The real reason we ignore older people is we hate them. We hate older people. Advertising people are young. They like the excitement of youth. They don't like the boredom of middle age and the frailties of old age. We can't build ourselves a hot advertising career by talking to old farts. Consequently, we have invented all kinds of bullshit to justify our malpractice. The neglect of mature consumers and pandering to young people is nothing but narcissism disguised as strategy. It is marketing by selfie-stick". – Bob Hoffman
Of course, we need young people too. The value of not knowing is huge. They question things that older folk have just "got used to". But that means we work in partnerships. Not in absolutes. As with George, Len and Ron, there's no better way for a young person to succeed than under the stewardship of a wiser (and often older) head. The opposite is also true. There's no better way for an older person to thrive than with the inquisitiveness of youth at their side. And that is the value of diversity.
It's well known now that a diverse workforce is likely to be more creative and financially successful.
Strategy Director at Epoch, Alex Murrell, puts it perfectly, "We need young challenging minds, but we also need experienced expert advisors – we need brands that target young vibrant consumers, but we also need brands that service older, wealthier ones".
In our latest Call to Action episode with Andrew Spurrier-Dawes, ASD references his Isolated Talk 'Culture is Created in the Rub' in which he proposed that to drive society forward we must have 'rub'. Rub is created when different people, cultures and demographics meet. And that's where the spark of creativity comes from.
Young, old or somewhere in between. Go forth and rub each other.
(Hmm, maybe that needs some work)
Ciao.