Creating the perception of value is a tricky thing
The Blogfather and his better half learn the true value of things the hard way, going all 'Bonnie and Clyde' as they go after eBay sharks, Marks & Spencer and an extortionate t-shirt seller, but do find time for Ikea.
Marketers should treat the communication of their price as one of their most important tasks. The promoted price may be fixed, but the perception of that price is malleable.
Certain elements of the lockdown are an absolute breeze for the Blogfather; extended periods of incarceration with only one hour a day allowed for exercise being all too frequent, back in the day.
Yet the scarcity and inflated value of certain items is a greater source of frustration. You can't buy a set of dumbbells for love nor money. Well, that is unless you want to part with 200 quid for them on Amazon when 2 months ago they were £30 at Argos. In the early days of the crisis everyone was nuts for loo roll and hand sanitiser, whilst self-raising flour and a decent jigsaw puzzle are still like gold dust.
Now, it may or may not surprise readers to hear that this incarnation of the Blogfather (who is a little akin to Doctor Who) is married. Unfortunately, Mrs Blogfather fell foul to the eBay extortionists recently, forking out 40 quid for a 2 litre bottle of Dettol. Whilst I nearly choked on my bacon sandwich, Mrs Blogfather actually thought this was a good price (and if I hadn't pointed out that you could get the very same bottle from Asda for a fiver, she would have continued to think so).
Whilst all cleaning consumables outgoings at chez Blogfather now come over my desk (with Mrs Blogfather taking over the protection rackets for Newham), it re-affirmed a point that is always worth remembering; that value is not set in stone, it is a perception that's also reliant on context.
Thinking of experts and great work around this topic immediately brought to mind Richard Shotton. Richard was actually the very first guest on our Call to Action podcast, and his book The Choice Factory is thoroughly recommended for a lockdown read. One experiment he and his colleague Jenny carried out was as follows.
They asked over 1,000 consumers if they considered a range of brands to be good value or not. Each participant was asked the question in one of two ways, with the brand in question either being compared to a cheaper competitor or a more expensive one.
So, for example, they told one group of consumers that a Bentley Flying Spur cost £118,651 and a BMW Series 5 cost £30,265. In this scenario, 47% audience thought the BMW was good or very good value.
They then asked another similar group of consumers the same question, but with one small change; swapping the Bentley for a Ford Mondeo priced at £20,495. In this scenario only 33% of people thought the BMW represented good value.
As Richard surmises, this experiment suggests that marketers should treat the communication of their price as one of their most important tasks. The promoted price may be fixed, but the perception of that price is malleable.
This experiences is effectively an example of what is known as price anchoring: that is psychologically nudging customers in terms of their purchase behaviour. A stark contrast is created in the prices, drawing an indecisive consumer to the cheaper option.
Richard Shotton shared this great example from the restaurant brand Carluccio's, who included a Vespa for sale on their menus so all the food is comparatively cheap.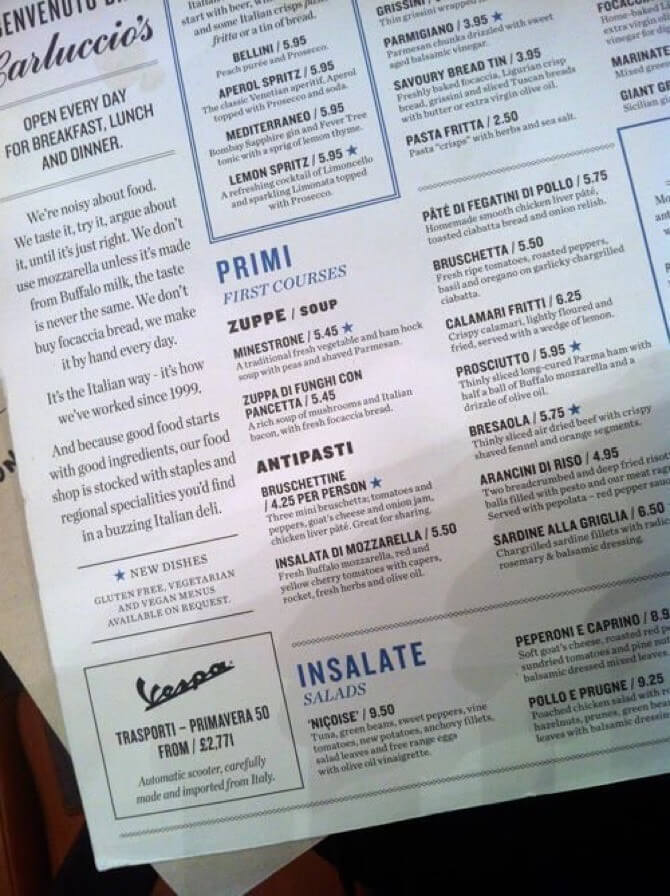 A favourite example of ours is Rory Sutherland talking about our perception of price being relative and not absolute: "Rolls Royce and Maserati stopped exhibiting their cars at car shows and started exhibiting them at yacht and aircraft shows. If you've been staring at Leer jets all afternoon, a £350,000 car is an impulse buy, ok? Well, we didn't buy a plane this year, so I will have a couple of those."
In searching the internet for a new pair of remote working slacks, I chanced across a fashion retailer charlatan who could do with a very sizeable price anchor alongside this t-shirt to convince me it is of value.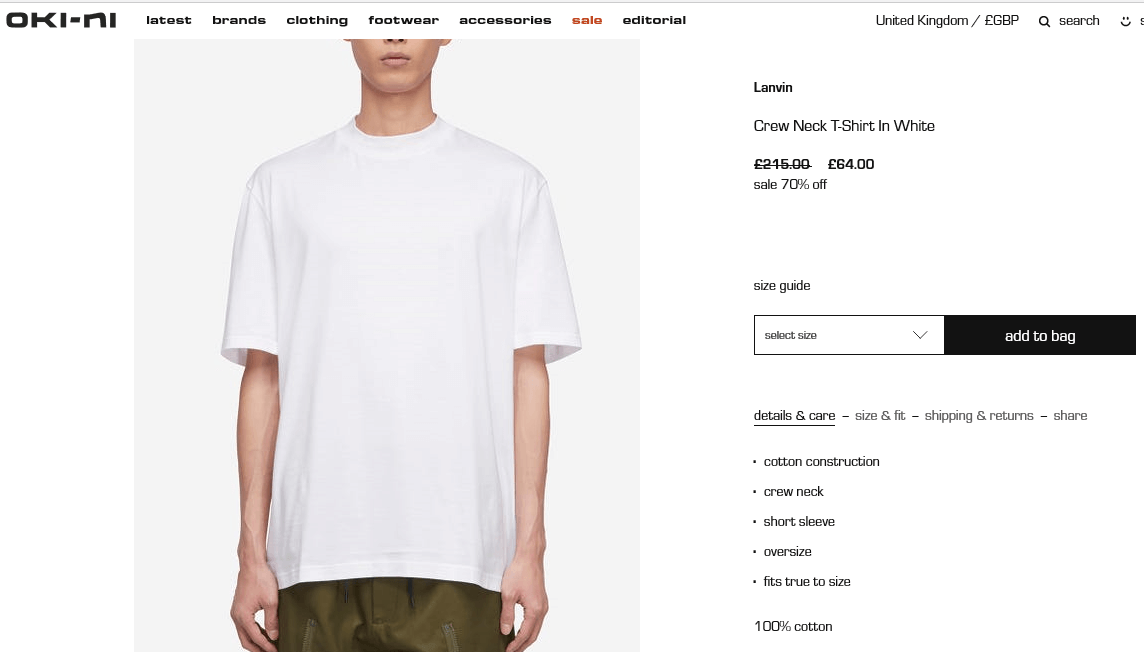 These chancers were trying to flog a plain, 100% cotton, crew neck white T-shirt. For what price? Anyone with cash on the hip should be prepared to have 215 Sovs taken from their sky rocket.
But maybe it's a special kind of t-shirt. Let's look at the description:
Cotton construction – Well, it is 100% cotton, but fine.
Crew neck – It's going to be crew or V, but OK.
Short sleeves – Kind of a given with a t-shirt, surely? It's like Mercedes saying their car comes with doors.
Oversize – baggy is cool, that's fine
Fits true to size – Ok, now the whole size thing confuses me.
But this is not the most ridiculous thing I've come across in fashion retail during lockdown. That prize goes to Banana Republic, discovered courtesy of the 'Opinionated Sod' Rob Campbell's blog.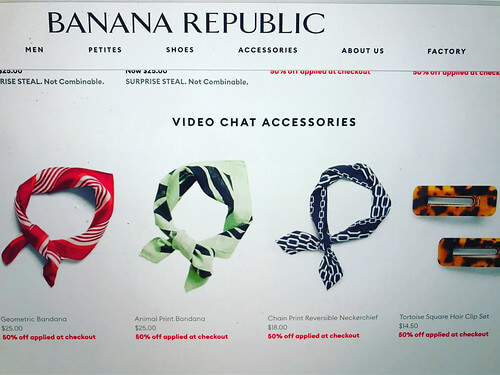 Banana Republic have rebranded their scarves as 'video chat accessories'. I think this can be safely filed under; 'trying too fucking hard'.
Banana Republic have rebranded their scarves as 'video chat accessories'. I think this can be safely filed under; 'trying too fucking hard'.
Want some proper advice on how to do marketing during this period? Then check out Mark Ritson's recent cracking webinar on marketing in the time of Coronavirus. There is loads of great advice in this hour of gold, but one thing that stood out was that "the best thing marketers can do is make money for companies, create value for customers and help companies to pay their employees."
One brand that is definitely doing the creating value part is Ikea. And it's thanks again to Mrs Blogfather (who was on the hunt for a couple of new wardrobes) that we have some first-hand evidence.
To replace the in-store experience, Ikea are currently running a Microsoft Teams based service that is effectively like having your own personal shopper to help create semi-bespoke items. A very helpful woman guided us through virtually building 2 wardrobes in 3D, even down to the spacing between the shelves. It is a service of great, genuine value, and is no doubt going to be a huge plus for whatever the future holds.
By adding value, we don't mean what Marks & Spencer's did, namely just marking up the cost of hand sanitiser to the price of an arm and a leg (£11.50!). Nothing can be gained from mugging off your customers in these times. In terms of the signalling around that, M&S's brand perception is normally that of a luxury brand, but this puts M&S down alongside those eBay Dettol profiteers, the idiots.
To sign off, I'll leave you with this. You may be thinking what's a good channel for the new normal? How about this; an influencer/product placement explosion fusion: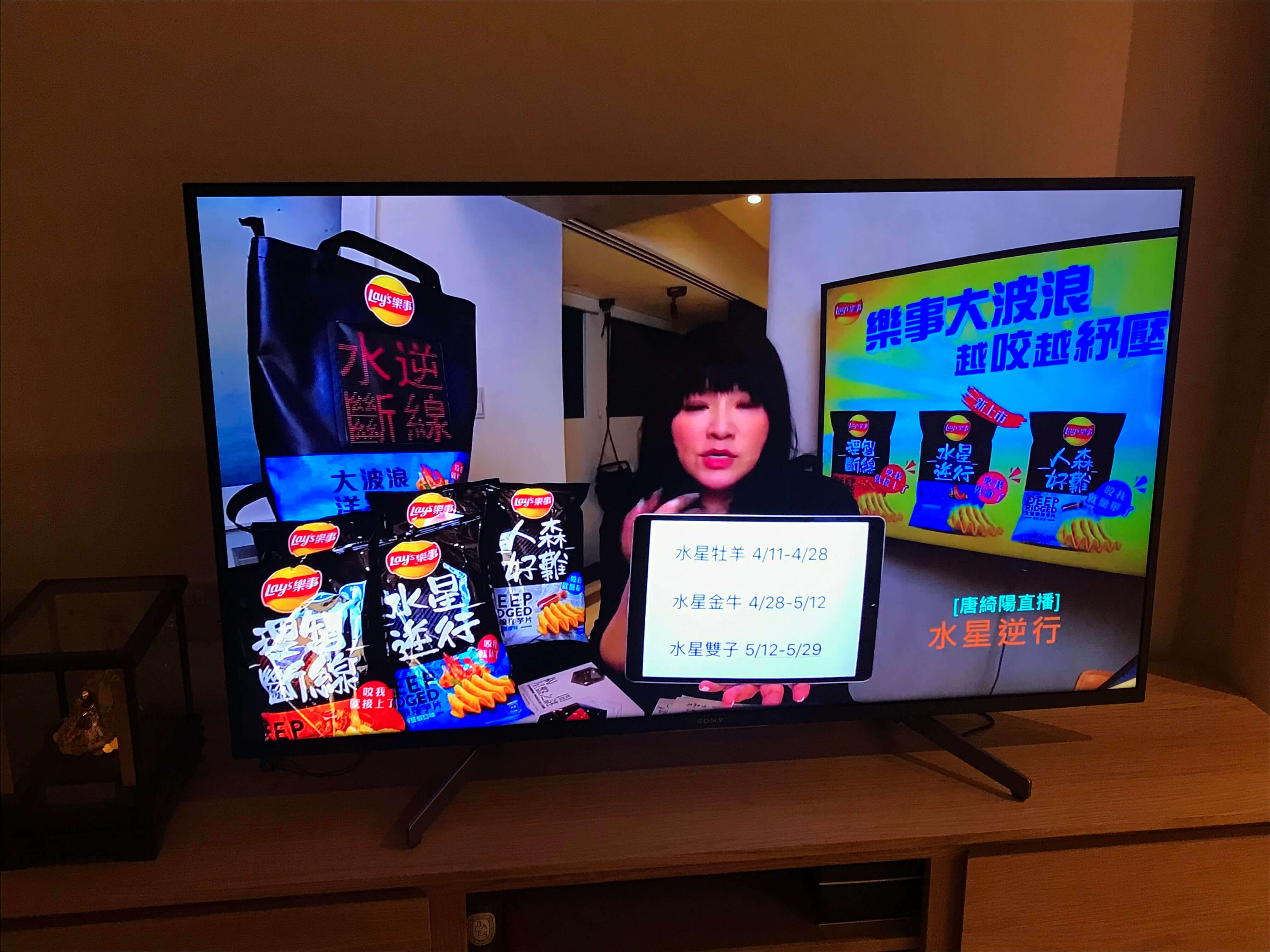 So, if you have a few quid of budget lying around, maybe hire a Taiwanese YouTube clairvoyant influencer and product place the shit out of your wares. It's probably of fractionally more value than that t-shirt*.
*The t-shirt in question has now been reduced to a more palatable but still high £64.00. Although, from a different point of view, that's a huge 70% saving…might get one.