Let there be light! Retail's alright.
The Blogfather clobbers the Beeb and cuts a swathe through all the doom and gloom around the high street and retail industry to glean some glimmering pearls of insight and reasons to be hopeful.
And also, thank fuck for Greggs. Not only as the Blogfather is partial to a sausage roll, but they are a truly great success story.
If all your reading around the state of the high street and retail industry is done on the main media outlets and rags, you'd be forgiven for thinking we're on the brink of a retail Apocalypse.
Case in point, this article from the BBC with its headline of "Worst year for retail in 25 years, says trade body."
If you read the article, the trade body (British Retail Consortium) didn't say that. The trade body said total retail sales fell for the first time in 25 years, by 0.1%. So, in theory, 2014 could have had fewer sales than 2019, and thus be considered worse.
Or, as the article says itself:
"Despite the drop in total sales last year, the volume of sales was still higher than in 2017."
Idiots. Anyway, the article continues; "The BRC's figures do not include the entire retail market."
Ah. So, who is left out?
"For instance, its survey excludes some fast-growing online retailers, including Amazon, which some experts reckon now account for some 20% of online sales."
Yeah, you could say Amazon is pretty fast growing. It is one of the UK's top ten retailers.
How can you state that total retail sales fell 0.1% when you haven't included all the market? Am I missing something? (I'm no economist, I may be). The Beeb has gone to click-bait shit, regardless.
It's common knowledge the mainstream press are doom-monger clickbait merchants. They will gleefully tell you about Mothercare going under, and Mark's & Spencer's struggle to stay relevant etc. To look under that, at business and retail sector publications, there lies reason to be hopeful. For every Arcadia Group there is a JD sports.
JD Sports has the best performing FTSE100 stocks of the last decade. That's staggering and impressive. Shares have risen 3,200% since 2010, from 25p to 832.2p as of the end of 2019. In contrast, Marks and Spencer was relegated from the FTSE100 in 2019. JD Sports also reported pre-tax profits of 2.7bn for the 6 months up to August 2019, up 47% on the same time previous year.
And also, thank fuck for Greggs. Not only as the Blogfather is partial to a sausage roll, but they are a truly great success story. Their vegan sausage roll was the star as they were crowned Brand of the Year 2019 by Marketing Week. They also paid out £7m in bonuses to the shop floor staff. Cracking brand.
That's not to mention the success Aldi have had. Christmas sales topped £1bn for the first time as they and Lidl continue to increase market share. Aldi are also not afraid to sacrifice short-term profits as they invest heavily in expansion, with the aim to increase its UK chain from 874 shops to 1,200 by 2025.
So what is the key for success in retail? Jargon-smiths would say multi-channel. Certainly, JD Sports' executive chairman Peter Cowgill would:
"Against a backdrop of widely reported retail challenges in the UK, it is extremely encouraging that JD has delivered like-for-like sales growth of more than 10% with an improved conversion reflecting consumers' increasingly positive reaction to our elevated multichannel proposition."
I'm not exactly sure what an 'elevated multichannel proposition' is. Don't elevate it too high, or presumably people won't be able to grab the trainers off the shelves.
Anyway, there is a further clue in the success of the home furnishing firm, Dunhelm, now in their 40th year (started from a single market stall. Sounds familiar). Revenue is up 6% for the first 6 months of the financial year, with 3 new superstore openings planned.
Their chief executive Nick Wilkinson said its new website was key to the firm's financial success. There was a large percentage growth in online sales (rising by 33.2%), while store sales revenue increased by just 2 per cent.
They simply moved with the times. Always thinking of ways to improve and have struck the right balance between online and offline, whilst ensure the customer's going between the two is frictionless.
I think there is also a lesson to be had in this delightful story.
The independent Petersfield bookshop failed to sell a single book on a rainy day in Hampshire, and put out tweet of lament. Possibly the first time in 100 years of trading that this had happened.
The fantasy and science fiction author Neil Gaiman saw the tweet and shared it with his millions of followers. The result was 1100 new followers, over £1,000 of new online orders in a single night and 300 messages inquiring for titles.
Of course, this is rare and exceptional, and a reminder of how beautifully but all too rarely the internet can sometimes work. It's the golden/poisoned chalice of going viral (something that the great Ryan Wallman satirically sends up perfectly in his new book Delusions of Brandeur, which is also the first book designed and published by Gasp.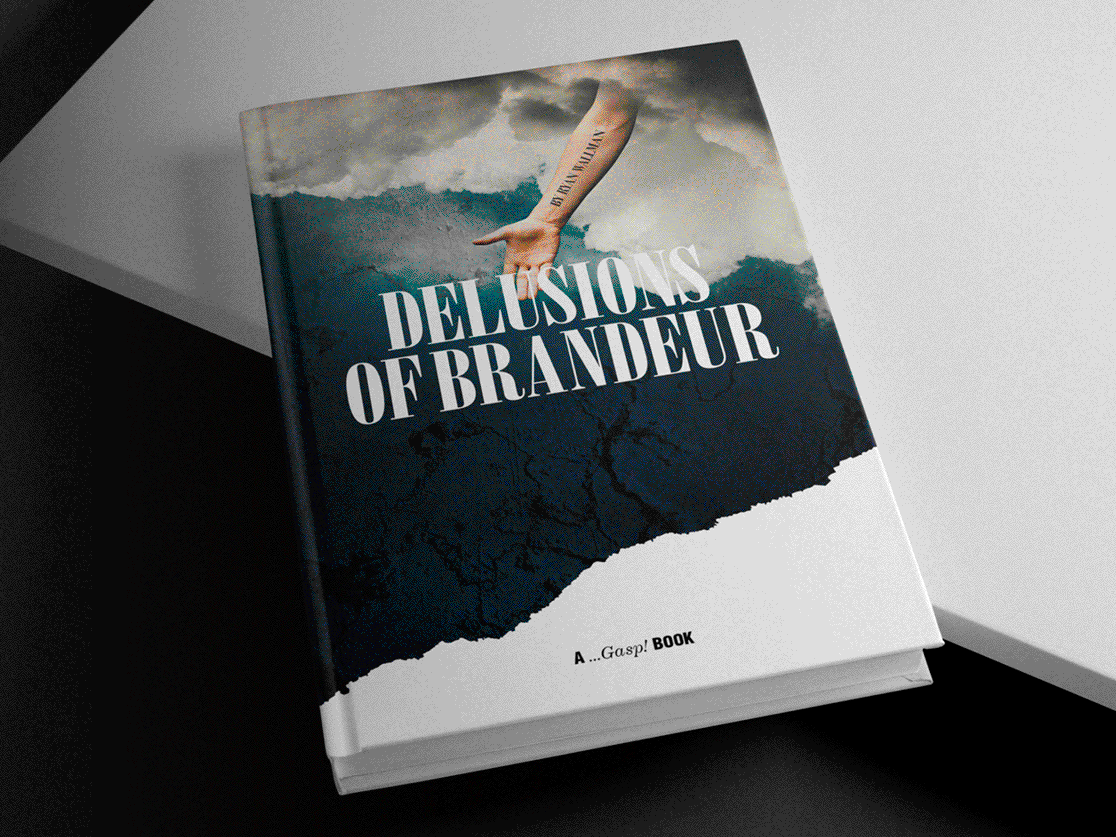 Some see online shopping as the death knell for the High Street. It isn't.
But if they didn't have an online retail function, all these people willing to help/buy would not have been able to do so. Certainly not easily. The bookshop also holds cool events like candlelit readings of Grimms' Fairy Tales in the evening. So that's their 'in-store experiential', if you like.
The lesson here is not aiming to go viral. You can never plan for this happening. But be active on channels that make sense to be on, keep putting your message out there, and then you may get 'lucky'; something Rory Sutherland says is vital for success.
Make no mistake, the High Street, in particular, has challenges. Just a casual look out the window here across Wokingham reveals both a long-closed Café Rouge and Zizzi, the units still to let, and a Thomson Cook swiftly papered over to convert it into a Hays Travel.
Some see online shopping as the death knell for the High Street. It isn't. It is the lack of consideration given to how online can enhance their business that will be a factor in their demise.
No doubt the rent landlords charge for retail units is a factor too and needs to be fairer, as does the work done by the Valuation Office Agency as regards business rates, who have a vested interest in retailers paying higher rent (more for the coffers).
The very recent How We Shop report by the parent company of Westfield is interesting.
A total of 59% of consumers are expecting that more than half of retail space will be devoted to experience rather than product by 2025, while a huge 81% said they would be willing to pay more for experience.
Arguably more interesting, the report found that more consumers are requesting that more online brands should enter bricks and mortar. Which is cool, but just don't f*ck it up like Missguided did; all their first bricks and mortar stores were loss-making, some are now closed, and they contributed to a pre-tax loss of £46m back in 2018. This was due to bad management, not the state of the sector.
If those retail brands traditionally associated with bricks and mortar stores are to stay in business and grow, they need to ignore the doom-mongers, be bold, and concretise* (excuse the pun) a long-term 'multichannel' strategy that strikes a balance and synergy between online and offline and re-imagines how the space in store is used.
Adam Castleton, CEO of Startle, the background music and engagement tech brand, is of a similar opinion:
"Deloitte renamed the "retail apocalypse" to the "retail renaissance." The basis for this renaissance? Improving customer experience at every touchpoint, seamlessly integrating the best of ecommerce, bricks and mortar, and experiential retail experiences. I couldn't agree more. Successful brands are often the ones that have focussed their efforts towards listening to their customers."
Not to mention having impactful, creative advertising and marketing. But that's a blog for another day.

*For Dan.