The Lionesses brought football home, but what are we going to do with it?
"I'm so sick of having it rammed down my throat." "I can't watch it, it's too slow, five minutes and I've had enough." "I'd watch Estonia though they are well fit."
By Nicola Kemp, the co-founder of DICE and editorial director at Creativebrief.
There is no question that the Euros win will change women's football forever. But as these comments from a group of dads at recent football tryouts in Surrey underline, we've still got a long way to go to level the playing field.
I want to be honest and tell you that I have a stake in this game, or more accurately this game holds a slice of my heart. My seven-year-old was the only girl competing in those tryouts. At least, unlike at her school, she is allowed to actually play in competitive matches. For despite the fact it is 2022, the truth is we are still bringing up girls to conform and not compete, to be spectators and not players.
If we really want to change the game, we need to be relentless in our pursuit of equality. This is the driving force behind the new DICE (Diversity in Conferences and Events) campaign from creative agency ...Gasp!. Featuring the strapline "It's time for a level playing field", the ad appeared on digital screens surrounding Wembley Stadium, donated by Mass Media.
The campaign aims to build momentum through what has been the most-watched Women's Euros in history. The 87,192 fans at Wembley last night meant that the game had the highest attendance of any European Championship final – either men's or women's.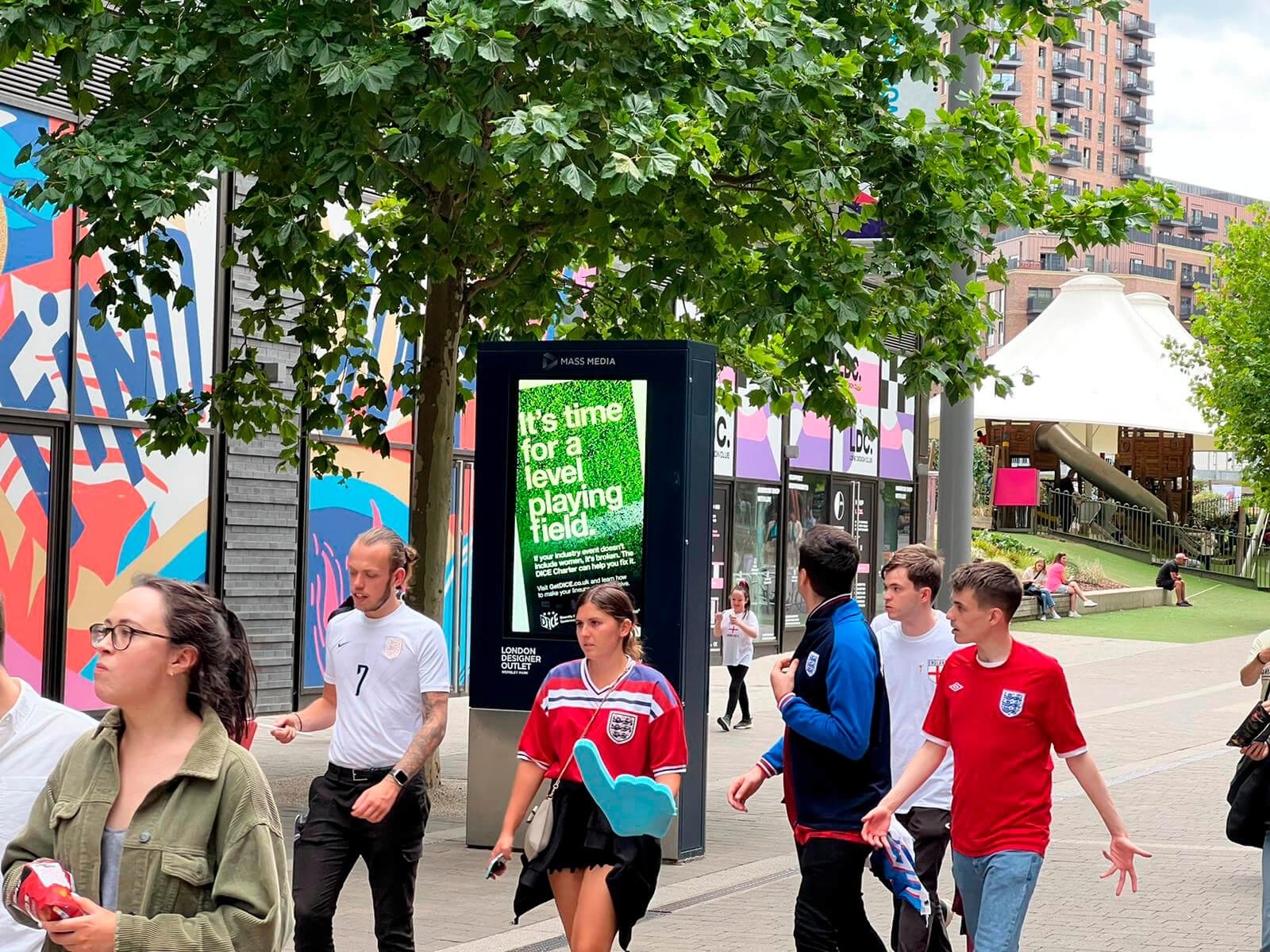 Get off the sidelines
Yet despite these record numbers, the truth remains for much of the creative industries that we continue to sit on the sidelines when it comes to women's sport. So forgive me if I am not for one millisecond concerned that brands are going to "spoil" Euro 2022 with worthy purpose marketing.
From EE's brand-definingly excellent "Not her problem" campaign from Saatchi & Saatchi to the copywriting brilliance of Visa's "When more of us play, all of us win" campaign, the standout campaigns of this tournament are a compelling reminder of the power of ignoring the "reply guys" in your marketing strategy.

For while there will always be the perennial argument that it's "all gone too far" before any meaningful change gets going, the reality is that in the wake of this once-in-a-generation opportunity to reshape the workplace for the better, we have a historic opportunity to place equality at the heart of our businesses.
Closing the participation gap
Women were not allowed to play football when England last won a major tournament. The Football Association instituted a ban from 1921 to 1970 in England that did not allow women's football to be played on grounds used by its member clubs.
While long-term investments such as the Weetabix-sponsored FA Wildcats programme for five- to 11-year-old girls and the momentum of grassroots campaigns such as #HerGameToo are making an impact, closing the sports participation gap will take both sustained effort and investment. One that starts with addressing the scale and scope of the problem.
There is a reason that Sarina Wiegman's beautiful team had most of us in tears last night and it's not just because the players beat Germany 2-1 to become champions of Europe for the first time. It is because they offer us hope and the heightened expectations of a level playing field. Tears of joy, yes, but also of frustration and anger that it's taken so long to get here and there is still so much more to do.
I expect better for my daughter. I expect her to be able to play competitive football at school without a word salad of an excuse as to why she cannot play with the boys. I expect her to be able to hold on to the joy of simply existing in her body without the fear of the judgment of others. I expect her to be free from the casual exclusion and sharp edges of sexism, the "she's good for a girl" school of life. I expect her to be given equal opportunities to win or lose. I expect us all to call time on the utter tyranny of the dead-eyed, air-brushed, passive media stereotypes of femininity, which continue to define her, and us, by what society thinks we cannot, or should not do.
The activist Soraya Chemaly writes that the anger we have as women is an act of radical imagination. In our industry, awash with a brilliant imagination, we cannot afford to be extravagant with this unique opportunity to level the playing field in every single aspect of our work.

So my question to you is a simple one, but nonetheless urgent: what are you going to do to level it? For as Gabby Logan declared so eloquently at the end of last night's historic match:
"They think it's all over. It's only just begun."
Nicola Kemp is co-founder of DICE and editorial director at Creativebrief.