Looks like we got ourselves a Leo Reader…
The Blogfather gets stuck into the topic of neurodiversity this week, as …Gasp! Book 'Copywriting Is…' launches on LEO Reader, the free e-reader for students with dyslexia, whilst an ad campaign from DICE highlighting the need for diversity at events catches his eye.
It's far too easy to take for granted what a great gift being able to read is.
Amongst our own personal groups of friends and family, we will encounter the full range of readers; from the voraciously reading teenage niece, to the uncle who proudly says he has only read one book in his entire life (Staying On Track: The Nigel Mansell Autobiography).
And, for the most part, reading is actively encouraged (unless you happened to walk into the same waffle house as the late, great Bill Hicks did).

But for some people, as much as they want to read and learn and improve themselves, there is something that holds them back, through no fault of their own.
I recall flicking through the reading lists associated with the modules on my degree at university and finding them daunting (predominantly as I could foresee the direct inverse correlation with my time that could be spent in the pubs of Exeter), but it wouldn't even have occurred to me to consider how much of an Everest that reading list must have seemed like to someone with a neurodivergence like dyslexia.
And it was from considering this very same situation that some great minds thought up the amazing idea of Leo Reader.
If you are not familiar with it, LEO Reader was co-founded by James Hillhouse, Kat Pegler and Alex Fleming; three professionals all currently working in the advertising industry in the UK. It is a free e-reader for creative students with dyslexia and other neurodiversities and was created after research revealed the extent to which lengthy reading lists were intimidating and discouraging dyslexic students from further education.
In fact, and more specifically in marketing and advertising, one recent survey found that 18% of professionals have one or more neurodiverse traits, and there is growing recognition of the untapped potential of neurodivergent thinking.
So we need more great work in a format that is easy to digest to those with a neurodivergence, and Leo Reader has set about making that happen.
The platform only launched back in January 2021, with good friend of the ..Gasp!'s Steve Harrison's "How To Do Better Creative Work", and has now added, we are very very proud to say, one of our own …Gasp! Books, Copywriting Is… by Andrew Boulton and Giles Edwards.
Copywriting Is… is a book title that is not ideally suited to appearing before 'is' in a sentence, but that is its only flaw. It is jam-packed with short and sweet, actionable advice for how to write more effectively and to improve the quality and consistency of your creative thinking.

The release is supported by contributions from creative leaders at some of the most well-regarded shops in the country, such as Rory Sutherland, Laura Jordan-Bambach (CCO, Grey), and Scott Morrison (Founder, "The Boom!"), as well as readers from all levels in the industry, even including students and grads from Andrew Boulton's University of Lincoln course.

Andrew never needs much encouragement for his two penneth, so here he is:

"Book-wise, I feel like most decisions Giles and I have taken have been no-brainers. But handing over Copywriting Is to the team at Leo was probably the easiest no-brainer we've encountered. I teach advertising and I see what a difference it makes when students can seek out different creative experiences and methods - and how much we take for granted the accessibility of the stuff we stick on a 'reading list'. We're enormously proud to be on the Leo list, but we're also desperate to see that list fill up with as many great creative books as possible. Yes authors, that is a hint."

And the feeling is very much mutual, as James Hillhouse, co-founder of LEO states:

"We're delighted to have Copywriting is… on Leo. It's part of a really exciting rush of new material over the next few months from some of the best in the industry. It's witty, wise and intensely readable. And with a brilliant mix of readers from the industry, it's intensely watchable and listenable too."
Those talented students at Lincoln University put in an appearance twice in this blog, as they now become my handy segue into talking about a great diversity and inclusion ad campaign that's gone live this week.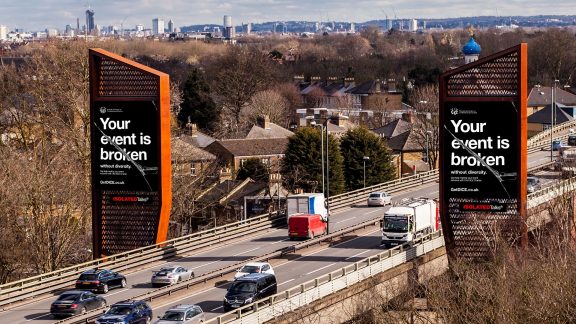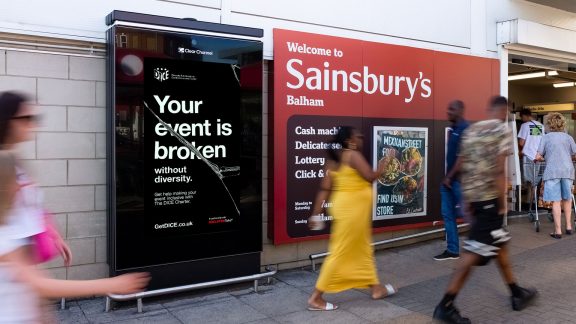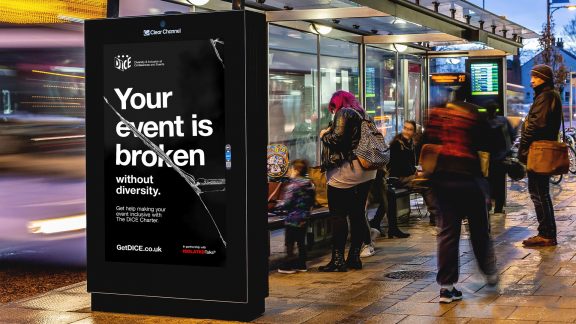 The work is the brainchild of creative duo Katherine O'Connor and Alicia Hessey, students from the University of Lincoln, who responded to a brief from the DICE team as part of their second year project.

The 'Your Event Is Broken Without Diversity' campaign runs in partnership with ISOLATED Talks® (a mental health initiative from us lot at …Gasp!) and will run across national digital billboards donated by the very generous bunch and ISOLATED Talks® Partner Clear Channel.
The ad is bang on the money for creating stand out, and reflects the idea that any event that only amplifies the voices of certain groups – such as white, middle class men – is essentially silencing every other voice.
All this talk of media reminds me that we have one of the best media heads in the business on the latest episode of our Call To Action podcast, Rich Kirk.
Rich is currently Chief Strategy Officer at Zenith UK and was named the UK's second-best media planner in 2021 by Campaign (so, like Avis, Rich tries harder).
The episode covers his early interest in how stuff got sold, the volatile and ever-changing media market, media planning's pandemic shake-up, how on earth you quantify reach, risk, the World Cup and more.If you've got this far, you deserve to rest your eyes and let your ears take over, as we listen to one of the smartest men in media being interviewed by one of the dumbest.