10 tips on getting the most from LinkedIn
The Blogfather wants you to ascend to the higher echelons of LinkedIn, and even pick up some new business on the way.
Delivering the right message to the right user at the right time is easier with LinkedIn, as crucially it allows you to reach decision makers when they are thinking about work.
Their stock may have recently fallen by 40% and wiped out $11bn in market value, but don't let a little thing like that put you off! At least they didn't create fictitious accounts like Tesco. With 400 million professional members globally, LinkedIn is hard to rival for sheer scale and audience targeting.
Say 'LinkedIn' and most people will firstly think: job searching. Whilst this is a primary function, it is arguably just as effective as a way of generating new business. Already this year at Gasp we've had face-to-face meetings come purely off the back of sponsored posts.
So what's good about LinkedIn? With consumers increasingly using the same device for both work and private, marketers are getting into a little bit of a tiz about knowing what 'mode' people are in, as the lines between professional and leisure hours become increasingly blurred (leading to the pointless new addition to the jargon canon; the 'pro-sumer'). But delivering the right message to the right user at the right time is easier with LinkedIn, as crucially it allows you to reach decision makers when they are thinking about work. Unless they are on the prowl like this naughty partner from a law firm.
So maintaining a good LinkedIn profile and etiquette can reap rewards. Below are some general good practice tips for you to digest, when you are in whatever 'mode' you fancy.
1) Use targeted keywords and phrases
These should best match your industry, for example, as a marketing agency you might consider 'Direct Mail', 'Design' and 'Branding'. If you are stuck, then review the profiles of people already eminent in your industry for a steer. They won't mind you having a nose.
2) Comment on, share and like articles and updates
Provide a comment that is pertinent to the content of the article. If you can't think of anything worthwhile to say then, as that great philosopher Ronan Keating postulates; 'you say it best, when you say nothing at all'. So just share the article with your connections. Don't tenuously link the content of the post to your company's offering, as you'll look more desperate than a z-list celebrity with a death wish who signs up for The Jump. Remember to like the article, as this will expose the article to other LinkedIn connections.
3) Ensure your public profile is visible
Now is not the time to be a wallflower, yet it probably also makes sense to choose a professional photo that doesn't convey you as some kind of doll-collecting mentalist.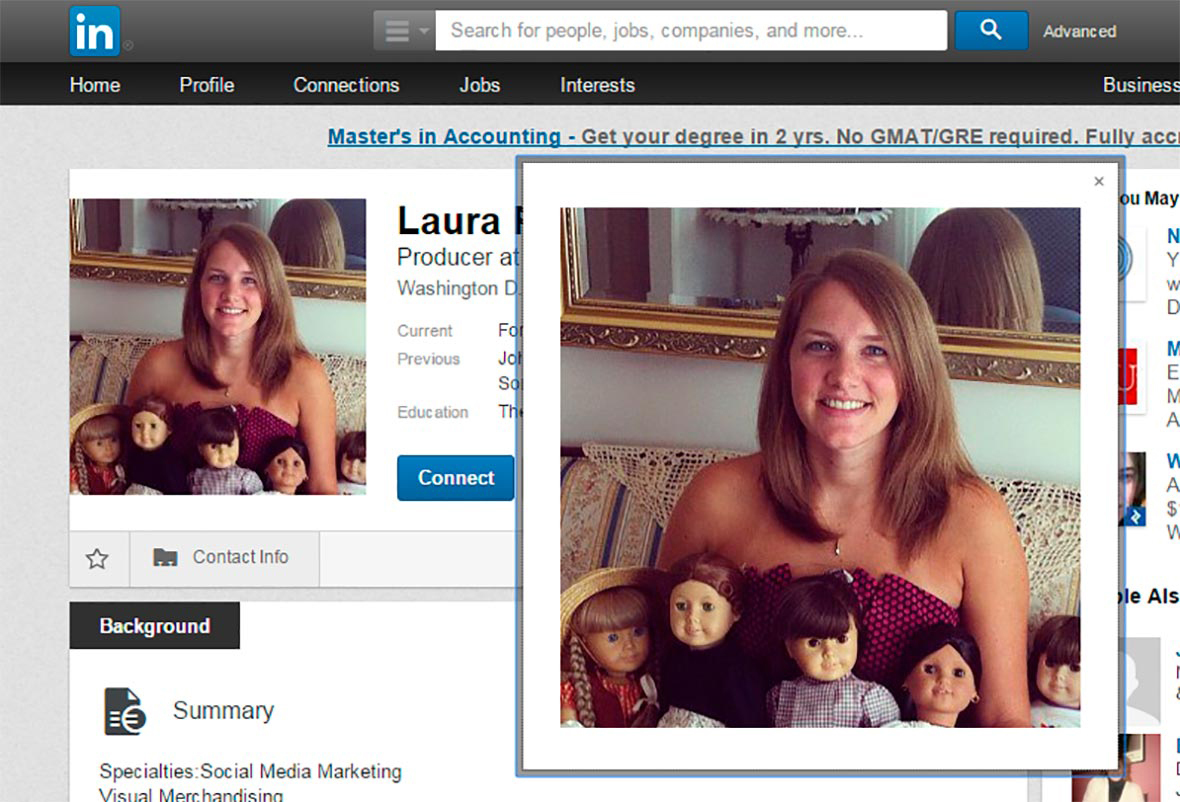 4) Send tailored connection requests
Don't send a connection request using the default, pre-populated copy. Personalise your message, referencing the call/meeting or mutual acquaintance that brought you into contact. If you have no real reason to be connecting with them, then you should severely question whether you should be bothering them in first place.
5) Don't Use Jargon
Yes, it is a professional social network, and yes, there are key words that are important, but if I see you talking about a 'pro-sumer's omnichannel journey being funneled into a walled garden', I'll give you a wide berth and a slap.
6) Join relevant groups
As well as helping you stay well-informed on industry news, those who generate the most discussions in groups every week are known as 'top influencers' and their name and profile picture are placed at the top of a group. This is good exposure, as you build your reputation by proving yourself as an authoritative source.
7) Increase connections
Make sure you have as many genuine connections as possible, as profiles with many connections rank higher than those that have few. Yes, it's a little like a shallow popularity contest, but you have to play the game. If you are in the early days of your profile, adding around 3-5 new connections a week is a good number to aim for.
8) Don't Confuse LinkedIn with Tinder
Like the idiot law partner in the story above, don't use LinkedIn for any purpose other than professional smooching schizzle. I once actually confused Tinder with LinkedIn. There I was, in a conversation about 'Financial Domination' with a lady I thought simply had a very aggressive business model, but before I knew it I'd been hit with a £500 bill for being a 'Moneypig'. Oink.
9) Sponsor good quality content
Something we do at Gasp, that is giving a helping hand to a post so it reaches a wider audience, and this very blog itself may have come to thine eyes via this means, assuming it cuts the mustard. Naturally, the content has to be good enough to begin with. Sponsoring updates is just one part of LinkedIn's advertising offering, which has received very recent improvements to the targeting, so it may well be worth splashing a few quid.
10) Be in it for the long haul
LinkedIn is an ongoing effort, and rewards time well spent. Some people are now talking of LinkedIn as replacing cold calling, but this would be ruddy bloody foolish. Direct messages to people who haven't a clue who you are, and that are blatantly trying to sell, are unlikely to be better received than a cold call, so don't be surprised if you get blocked. LinkedIn is not the place for the quick, cold, hard sell.