Spoilers, Spats, and Rogue Tweeters.
The Blogfather looks at social media fails, starting with the latest from the Radio Times, and offers some advice.
"Consider your social media 'strategy'. Are you splashing yourself across every network going and leaving it to the intern? Stop." - Giles Edwards
On the face of it, it all seems so simple. Social media. Just think of a few words, maybe add an image, and hit post. Job done.
But therein lies the first, and probably the biggest mistake you can make with SM. The notion that it does not take much effort or expertise, and that anyone can do it.
There was a great reminder of this on the weekend, as the Radio Times revealed the winner of this year's The Apprentice show to all their followers before the result was announced on the programme itself, due to a rogue scheduled tweet. Cue a load of irate people giving the Radio Times twitter handle a right going over. The official account is still to issue any form of apology, so maybe they schedule so far in advance and check their social media so infrequently that they are still oblivious to what's happened. Though when they see their handle associated with the hashtag #twats they may suspect something is awry.
Using a social media management system is actually a good idea and can increase efficiency. It gives you a strategic base from which to work from, but you will always need more than this, to be able to react quickly and with wit, or solutions. The Radio Times were sailing close to the wind whatever way you look at it with the scheduled timing of this tweet, no doubt keen to maximize the early scoop factor. Not many programmes can potentially over run, but the SPOTY Awards is one of them, they should have known this. They probably just thought they are giving their followers a decent piece of exclusive content to click through to, and would never have foreseen this issue.
Here is some pertinent advice from one of Gasp's founders, Giles Edwards, extracted from a recent piece we published entitled Six Common Fails To Avoid:
"Consider your social media 'strategy'. Are you splashing yourself across every network going and leaving it to the intern? Stop…The answer is the communication. The answer is the people – it always has been. Without people, the channel is redundant."
...the biggest fear of a brand on social media is a rogue tweeter. Here, HMV Ireland had a whole rebellious army of them.
Speaking of which, here is a great example of the perils of a brand just letting anyone have access to their social media accounts. Perhaps the biggest fear of a brand on social media is a rogue tweeter. Here, HMV Ireland had a whole rebellious army of them.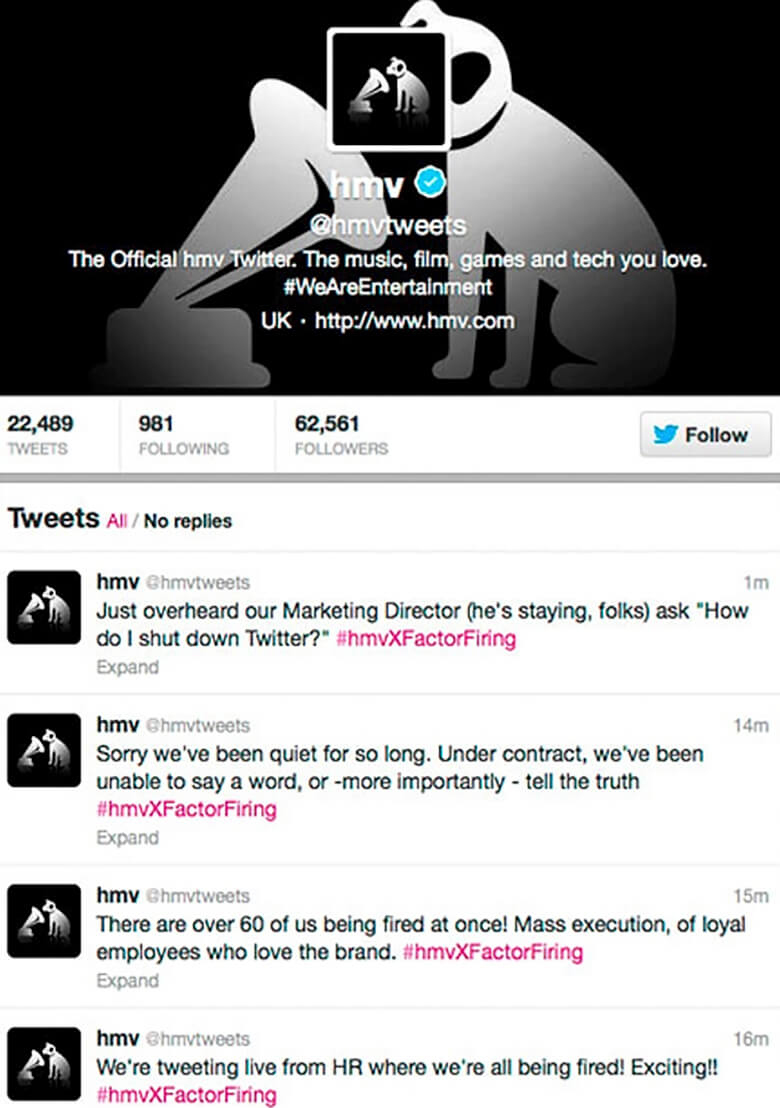 This looked absolutely awful for HMV. Like the storming of the Bastille, they'd utterly lost control of their comms. No brand worth its salt wants this.
It also pays to leave any personal or political persuasions you may have well out of the social arena. Here is a tweet from the ironically named 'The Dignity Project' charity, in relation to JK Rowling supporting the anti-independence movement. Not good. This charity has since been wound up.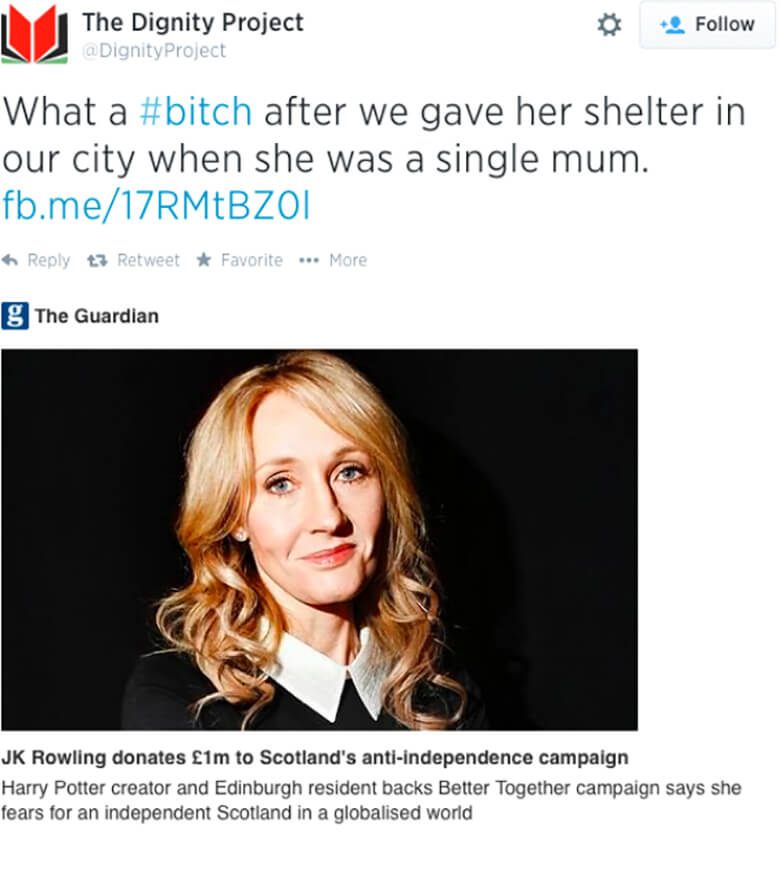 Social media can also be the first way you find out that something has inherently fallen down in your comms and services. The careful monitoring of SM can be of great benefit in this regard, especially to companies in the financial and IT sectors, and we've worked on ideas that have made the wildfire of a social media crisis the crux of the concept. Here's a stat to ponder, again from our recently published '6 Fails' piece:
More than a quarter of brand-related failures typically go international within an hour on social media, and a year after the crisis passes, more than half of companies haven't recovered their share price.*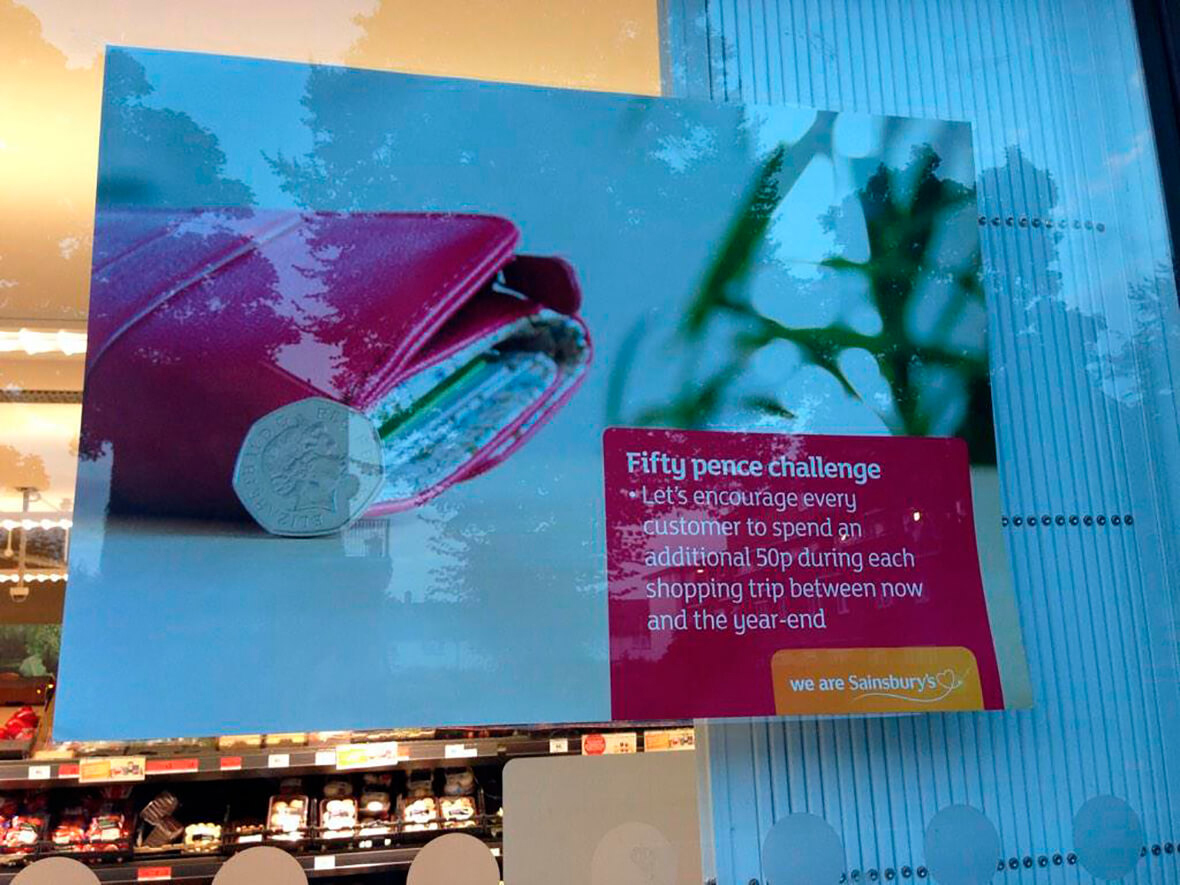 I love this beautiful example from Sainsbury's. Ok, it was never going to be that serious, but they made the basic error of mixing up their internal and external comms, and posted a motivational poster for staff, encouraging them to try and eek more out of customers' pockets, in the full glare of the shop front window. In a matter of seconds a member of the pubic had taken a photo and posted it on twitter. Sainsbury's left them self wide open for parody, to which Lidl promptly and deftly took a shot at them. And all this before their head of social probably had time to even catch breath.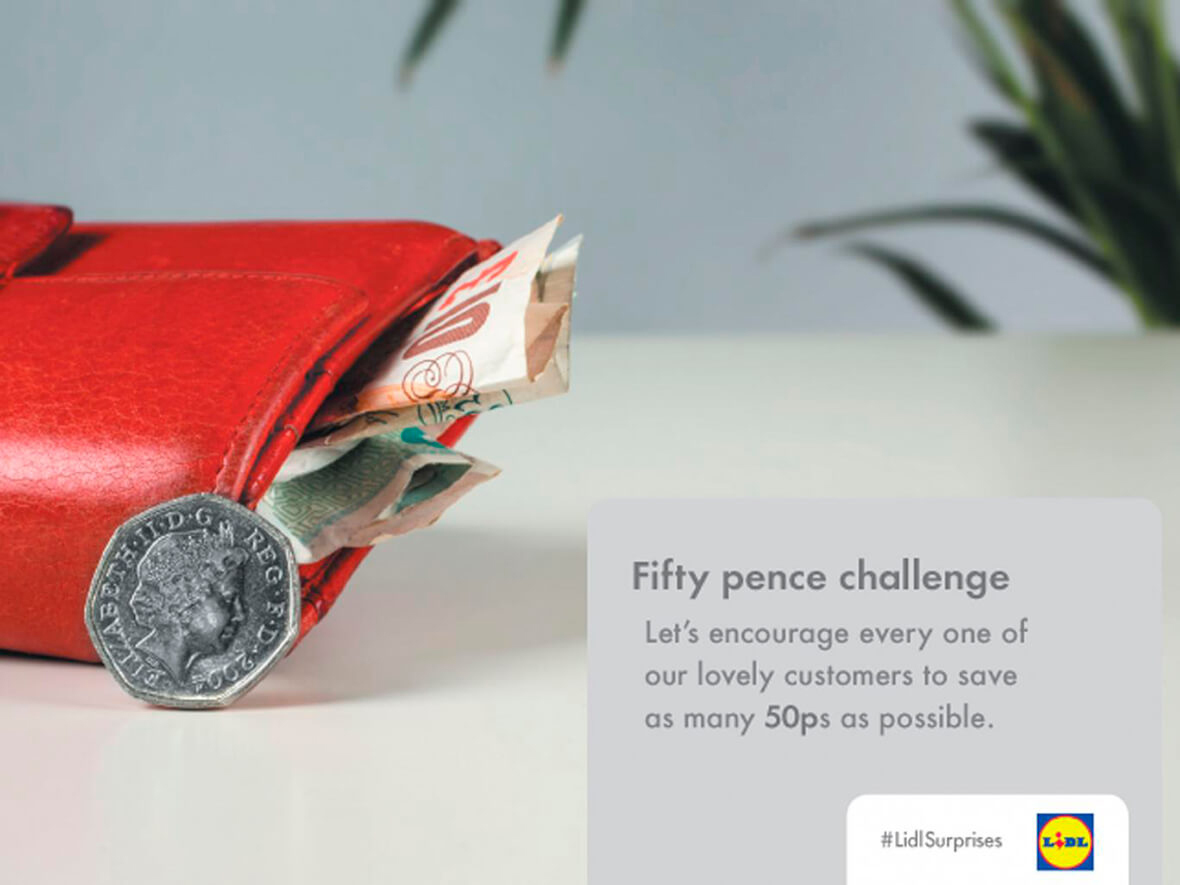 Yet there are good practitioners of social around. Only yesterday, I could not help but doff a cap of respect to Jasper Cuppaidge, the founder of Camden Town Brewery, who has just signed a deal with alcoholic drinks behemoth AB InBev. With heated accusations of selling out from amongst his customers and followers, he opened himself up for a prolonged Q&A session on Twitter, and did not shirk a single question, answering them all with calm, reasoned judgement.
So, if social media is a part of your marketing plan for 2016, but you've only given it a small slice of the budget, be wary: you could end up being the subject of a BuzzFeed article for all the wrong reasons. Good advice and agencies are around, and we naturally would love to help out. In fact, if you would like a free copy of the 6 Fails piece referenced here, just drop us a note, and we will send you one.
At this stage, all is left is for me to wish you a great Christmas and a very happy New Year. Unto 2016.