The clock's ticking on when brands will jump aboard the good ship Hype
The Blogfather gets his opinionated chops stuck into the succulent subject of TikTok this week. What the Dickens is it, is it much cop, and should you be considering it as a serious marketing tactic?
Impressively, TikTok has more than 1.5 billion users worldwide, which is more than the likes of Twitter and Snapchat.
A casual digital flick through The Drum last week threw up a few articles on TikTok, including one that asked: 'Should you be advertising on it?'
The marketing hype cycle has cranked into top gear, with another article covering the subject, "as TikTok looms" YouTube refuses to shit its pants.
Is TikTok the latest shiny new fad that people will start chasing and snake oil merchants will start flogging, or does it have any material value in the advertising and marketing realm?
Before getting into that, what exactly is TikTok?
The Drum describes it as:
"A platform designed for the world of influencer marketing, content creators and seven-year-old millionaires."
It would be understandable if your immediate reaction to that is; stay the f*ck away from it.
But let's dig deeper. It was created and launched in China back in 2016, with the name Douyin, and does anyone remember the app Musical.ly? Well, it is basically that, as the two apps merged in 2018. It is similar to the now-defunct app Vine, but instead of 6-second videos, TikTok gives you 15 seconds to achieve your 15 minutes of viral fame.
Impressively, TikTok has more than 1.5 billion users worldwide, which is more than the likes of Twitter and Snapchat. You can follow, be followed, but TikTok also headlines an account's accumulative likes across all posts, so really plays on that vanity metric.
As for the videos themselves, the app is synonymous with comedic lip-syncs to famous tunes, but dancing, sports, parkour, comedy and 'challenges' is the other type of stuff you will encounter.
Interestingly, it is hugely popular in India. A look through the list of the top TikTok stars (yes, the platform also has its own stars) finds it sprinkled with people from India, while the below graph shows how India leads the world in TikTok downloads (although it should be noted that it does not include key markets like China, who aren't that keen on revealing stats for things like social media app downloads and genuine death tolls).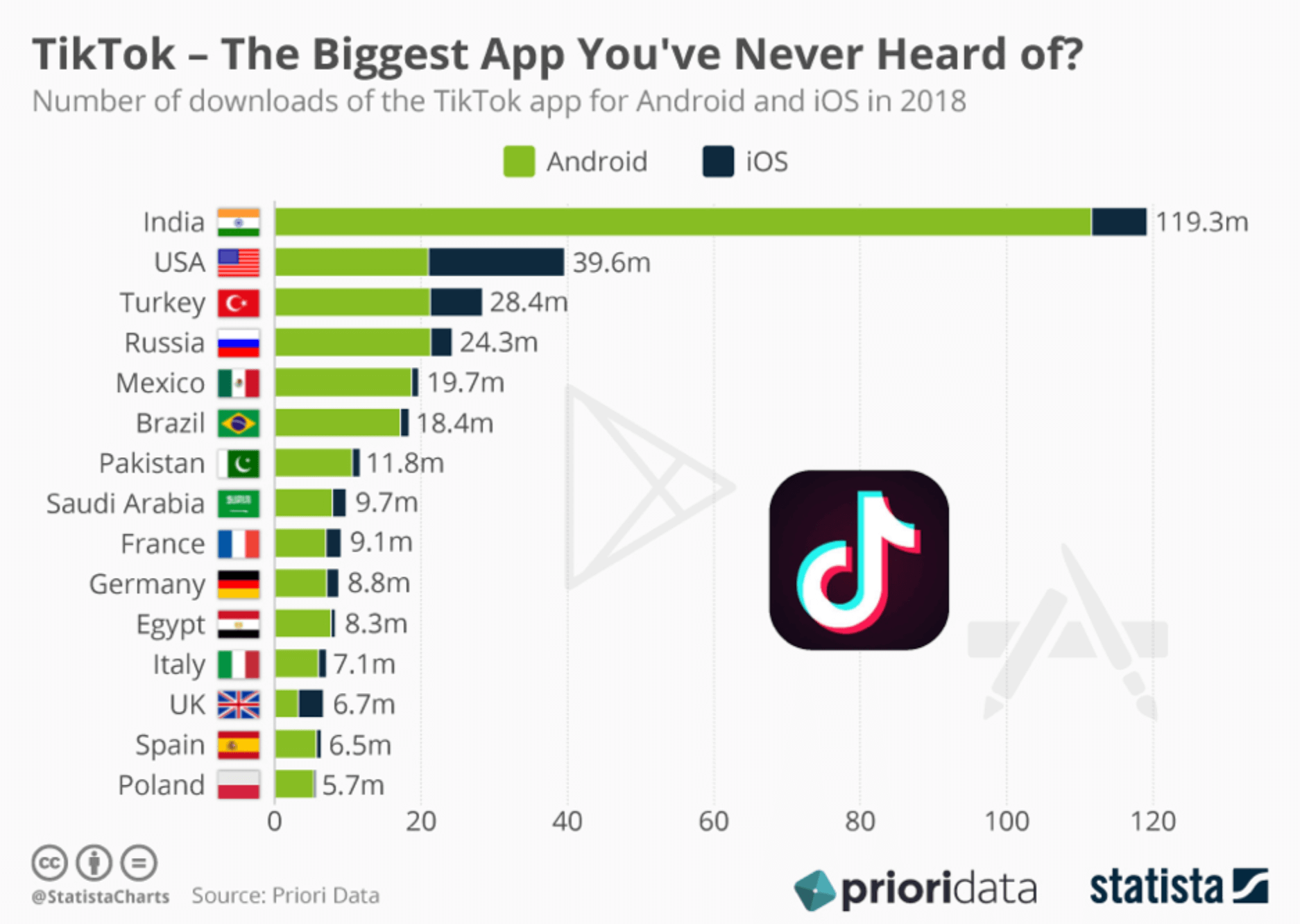 It is hard to visualise the likes of the CEO for PwC lip-syncing to Kate Bush's Babooshka and getting prospective CFO's to click through and set up a meeting.
So how about them stars. Addison Rae, from the USA, has 15.8m followers and 536.5m total likes. Some numbers. Charli D'Amelio, possibly the most famous TikTok star (apparently), had a cameo in the Super Bowl ad for Sabra Hummus (It's more glam than it sounds. Well, the wrestler Ric Flair is also in it). There also super collaboration groups, such as Hype House and Sway House, where these stars all sit together in huge LA houses and create content together making tonnes of money for very little work.
And who's using it? It is a very young user base. Two members of team Gasp have 11-year-old family members who are incessantly on it, but the app's popularity goes across young kids, teens and young adults, or 'Gen Z' if you are a jargon-ponse. Apparently 41% of TikTok users are aged between 16 and 24. It's questionable how much money all these young dudes and dudettes have to spend in the marketplace to begin with.
What kind of brands are making waves on it? As you'd imagine, it is a good fit for the likes of the NBA and NFL (Addison Rae has actually made videos for the NBA this week as part of the build-up to the All-Star game, which does make perfect marketing sense for the NBA). Chipotle's name also crops up regularly as a brand that is acing TikTok, although a look at their account reveals one of the most popular videos simply featuring a cat knocking food off a guy's fork. If in doubt, stick a cat in your video. Guaranteed to go viral.
So, you've got cash on the hip after your belated 2020 budget meeting and want to be 'disruptive'. TikTok has four ad formats for you to spunk your money on:
Brand takeover – Image, GIF or video ads that allow one brand to dominate a specific topic for the day.
In-feed native video – Vertical 9-15 second video ads that show up on the "For You" page.
Hashtag challenge – Create sponsored hashtags to encourage user-generated content, engage users and attract influencers.
Branded lenses: Create 2D or 3D lenses that users can try out for themselves.
Be warned; TikTok advertising is still in the experimental stage. The average CPC is $10/£7.50. That's a very hefty, LinkedIn-calibre CPC. It's questionable how many brands can justify this CPC, and it is hard to visualise the likes of the CEO for PwC lip-syncing to Kate Bush's Babooshka and getting prospective CFO's to click through and set up a meeting.
Have the snake oil merchants started to gather around like vultures? Yes. A quick Google search throws up a plethora of specialist TikTok agencies and articles like; "12 TikTok Marketing Agencies You Should Work With in 2020." Just think; these agencies could not have existed so much as two years ago, so what the hell were they doing before that? They were probably AI agencies.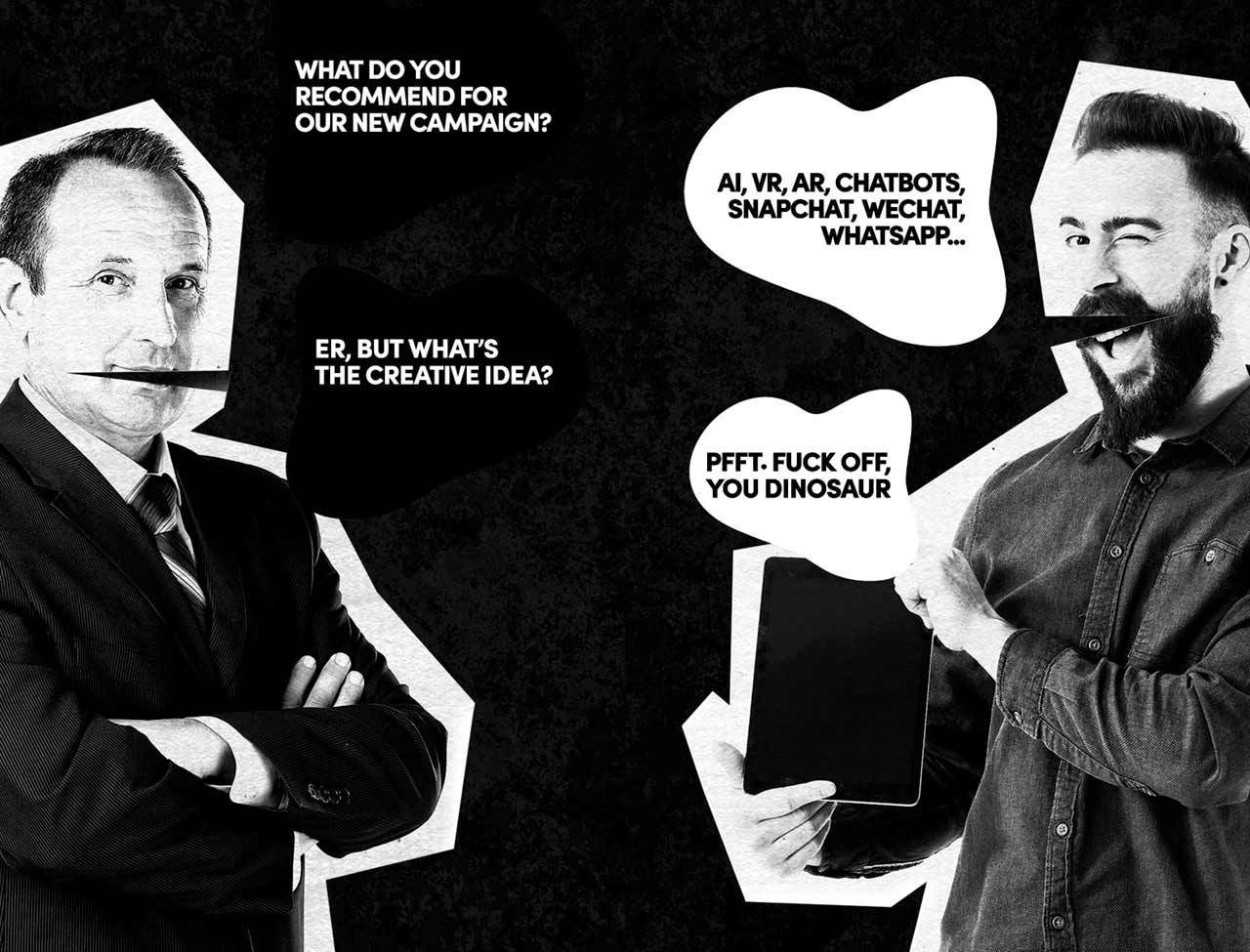 In going back to the original question that The Drum article posed, the short answer is no.
Ryan Wallman, in his cracking book Delusions Of Brandeur has, 'We need to be on TikTok' as one of the scariest phrases in marketing, and it's understandable why he rips the proverbial out of it.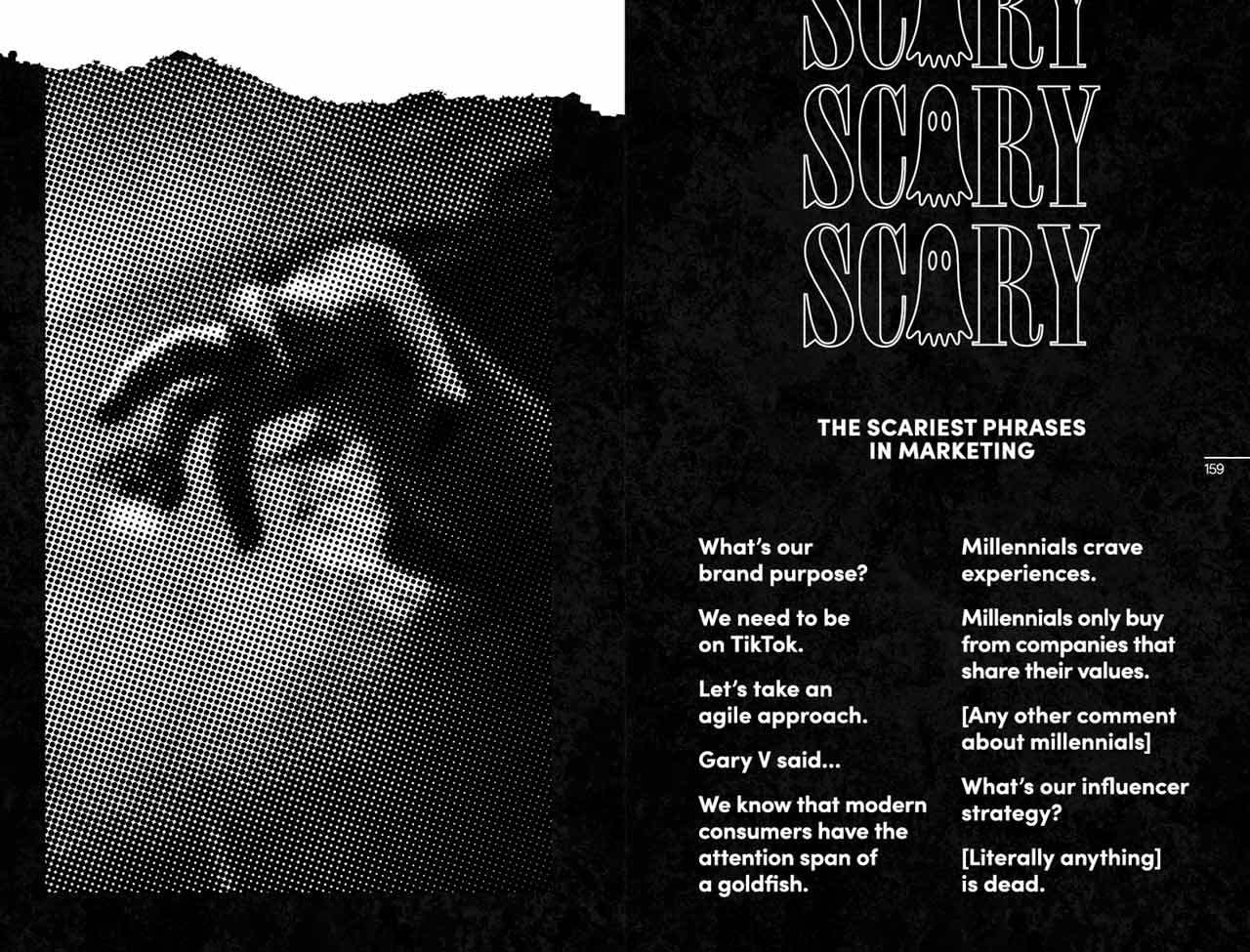 As we often talk about at Gasp, don't start with the channel and the latest shiny new thing, and stay true to your long-term strategy and objectives. TikTok may end up being an activation you dabble in, but keep your money in your pocket and away from the charlatans as regards ad spend on TikTok for now.
But if you are a B2C brand, say, that has a business function or brand identity connection to music, comedy, dance, sports etc, it certainly can't hurt to set up an account and put some time into creating some fun videos. And if you have an office cat, you'll be laughing.