What England's rugby failure means for brands
Even for a nation that is the bedfellow of sporting disappointment, England's failure to get out of the group stages of the Rugby World Cup is still somewhat shocking.
"For a rugby fan, the game is bigger than any team. Defeat or elimination doesn't preclude a period of mourning."
The first ever host nation to get knocked out of the first round, the failure is expected to cost the UK's economy £3.5bn. But what for those poor corporate souls that invested so much in sponsoring a massive sporting failure?
The internet was awash with memes that immediately signalled the death knell for the earnest sentiment of the Wear The Rose/Make Them Giants O2 campaign, with cynical comments and tweets aplenty, alone the lines of: 'bang goes another expensive marketing campaign.'
By having all their rugby sponsorship eggs in one English basket, O2 probably have most to lose. Yet as disappointing as England's exit is, and clearly some activation strategies will come to a swift end, O2 have had a good run of it.
Winning is not the only creator of brand equity in sport. O2 have a long, strong relationship with England Rugby, epitomised by quality content such as this animation from the creators of the John Lewis 'Bear & Hare' advert.
Also, crucially, the vast part of the O2 campaign was focused on intense activation in the build up to the tournament, with their website seeing nearly 5 million acts of support since way back in February. All their shops were rebranded months ago, while the above animation has been shared and liked millions of times for the past month.
Their stance in the aftermath of the early exit is bang on, albeit with little room for it to be anything else: steadfast loyalty and support, as shown in this tweet: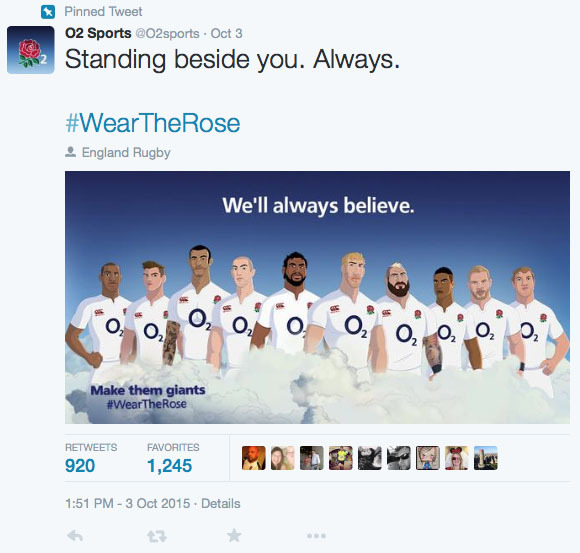 It could have been a lot worse. Consider if somehow England had not even competed in the tournament to begin with (considering they were the hosts, it would have taken a controversy of herculean proportions). This is what happened to BMW, when they sponsored the Oracle Team sailboat in 2007. They were eliminated from the America's Cup qualifying competition in Valencia, Spain, before the main event even started. German press reports at the time put the cost of the failed Cup bid at nearly $200 million. Ouch.
The England rugby team has been consistently successful for a 15-year period, so this is an uncharacteristic blip. So the likes of Marriott hotels, who sponsor England across multiple tournaments and events, had no hesitation in re-affirming their support.
Some brands are savvy like Heineken, sponsoring the tournament as a whole, while some brands hedge their bets by backing a collection of teams, such as Lucozade sponsoring all the home nations, and Beats by Dre's support of England, New Zealand and France.
Some argue that your average rugby fan is less fair-weather than their football counterparts, with fans' love of the game transcending national allegiance. There could be something in this, it certainly seems less tribal. As Jim Dowling, from Havas Sports & Entertainment says:
"For a rugby fan, the game is bigger than any team. Defeat or elimination doesn't preclude a period of mourning."
There will be a little short-term pain and embarrassment, but no brand should be adversely affected by England's failure. The biggest loser most likely will be ITV, who could see the value of their advert slots fall by £1m per match.
One thing I didn't like about the O2 campaign was the ad with the flagging Take That remnants trio carrying the players on their shoulders. The CGI was poor for a start. Maybe O2 can get more longevity out of the campaign by releasing a new version of the ad, where the giant version of the players topple over and splatter Barlow et al into a gooey mess.
Like. Share. Can we flatten Williams too? Not too fussed about Jason Orange.