Do you have one for your marketing?
The Blogfather tucks into the meaty topic of marketing planning, giving guidance on how to approach it and which Godfathers of planning to get stuck into, namely Mark Ritson and Stephen King (not the horror writing dude).
If we were to capture the essence of planning in one word, what would it be? Cycles.
It's a time where plans are very much at the forefront of conversation. Boris released his plan for our emergence from lockdown last week (21st June is now etched in people's minds as a day of freedom and abandonment, no doubt), whilst thousands of businesses are trying to plan for a future where so much is uncertain and changeable.
It's also the time of year, as we approach financial year end, that a large amount of businesses turn their focus to business and marketing plans (of course a company YE date can be vastly different, but regardless, it is an important date to plan around). Clearly, there is a lot going on in the world that can be deemed more important than marketing planning right now, and it would be pretentious to suggest otherwise, but marketing has always been fighting the long fight against being seen as the poor relation in the boardroom, summed up perfectly by Mark Ritson in the context of planning and budgets:
"One of the secrets of good marketing planning is to get the work done ahead of the finance teams, so that marketing can propose its budget and have an input into the sales projections for the year ahead. That approach is infinitely superior to waiting for the CFO to estimate everything using arbitrary guidelines and then allocate marketing's crumbs from the top table, while operating under the overriding assumption that marketing is just another cost, like office toilet paper or heating bills, that needs to be allocated."
With the nature of some inquiries Gasp gets, such as a construction company wanting to put all their chips on Facebook for example, it looks like not many businesses are planning marketing effectively/at all.
So, if we were to capture the essence of planning in one word, what would it be?
Cycles.
To expand. Gasp is, in some ways, unashamedly old school. From our choice of classic trainers and our lunchtime purchases, to our inspiration for our approach to planning.
Gasp founder and great trainers owner Giles Edwards came across a classic approach to planning so good that it forms the essence of a planning guide that sits on all Gaspers desks (well, before we all started working from home).
What is it? It is the Planning Cycle, devised by Stephen King when at J. Walter Thompson in the 1970's. Its full title is actually the Advertising Planning Cycle, but the highly pertinent questions that drill into the nuts and bolts details are fully appropriate to marketing. In fact, on a top line level, the 5 basic stages can be used for planning in contexts way beyond marketing, namely: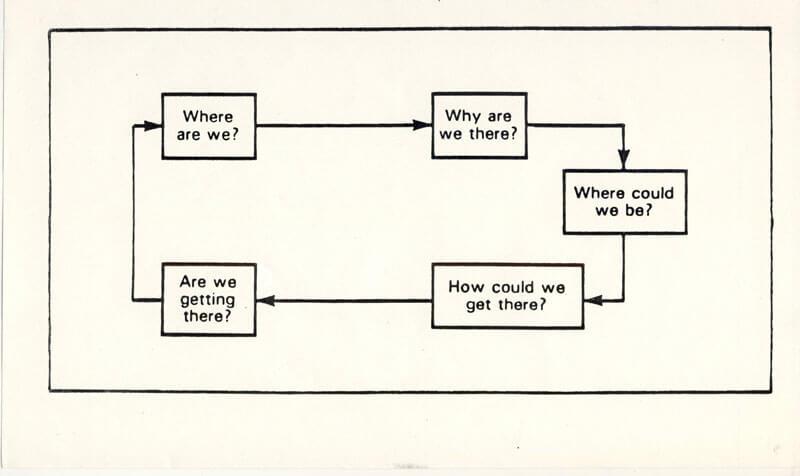 For Gasp, marketing is a process. It's not our process. It's the process.
This plan could easily be used on a personal level (Where am I? etc.) for assessing where you are in life, something that no doubt lots of people are currently taking stock of. On a marketing level, this planning cycle has formed the basis of some excellent kick off sessions for Gasp with clients as we start off relationships with the right approach.
For Gasp, marketing is a process. It's not our process. It's the process. If you thought J. Walter Thompson was old school, we are taking you back to the 1930's now and a dude called Neil McElroy, who wrote what's affectionally known as "McElroy's Memo". It's as relevant today as it ever has been, and is a great way to define this process.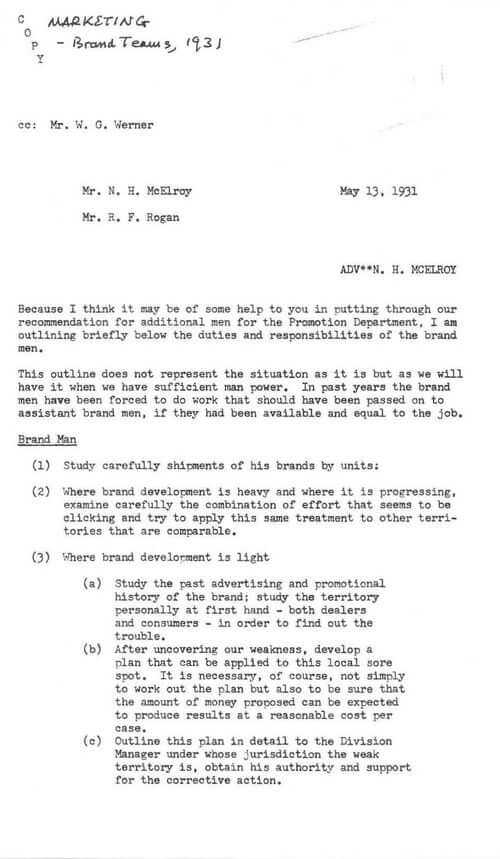 There is a marketing triptych when it comes to doing proper marketing.
Research - Go into the field. Understand the market. Create the map. Research, diagnose and understand.
Strategy - (Segment), Target and Brand Position. Develop Distinctive Assets. Build a strategy. And plan specific and actionable objectives.
Tactics – Objective selection of tactics that most effectively achieve the set objectives. Run tactics, review.
Then the cycle should start again, going back to a new diagnosis to see if the strategy worked and start the process again.
This approach very much nods to Mark Ritson (several Gaspers are alumni of his most excellent Mini MBA in Marketing), a man who, in his own humble words, has "helped build, present, critique, demolish and execute thousands of marketing plans in my career."
Mark proudly created his own diagram in a recent blog on planning (which is why it has the shape of a chocolate covered raisin, presumably), which is super helpful to anyone working on a marketing plan: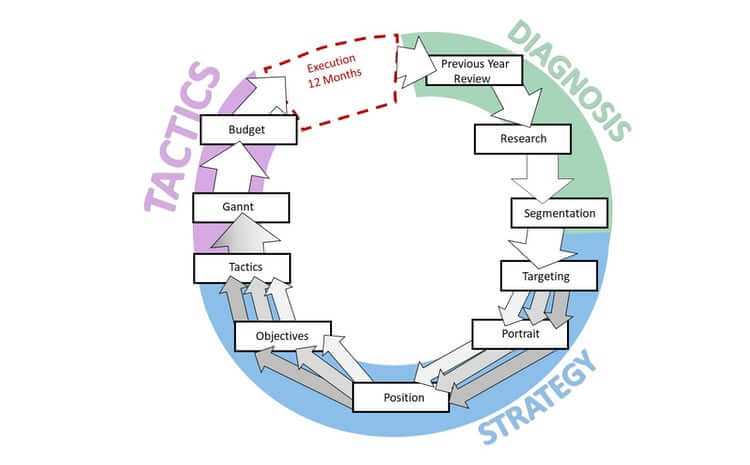 There is no single ideal marketing planning format, so don't try looking for one.
There is no single ideal marketing planning format, so don't try looking for one. As Mark states:
"Every young and desperate marketer searches online and in vain for a magical standard template that you fill in the night before the big presentation day. But Google rewards you with 100 dumb-ass versions of different stupid plans. No standard exists."
Furthermore, "marketing works best on a 12-month planning cycle…the shape of all marketing planning should be circular."
There's that word cycle again.
Now, I've given you enough to get cracking on your marketing plan or any other form of plan you may need for that matter. Just give us a tinkle on the blower if you need any help.
As a little footnote, the former French President Nicolas Sarkozy has been giving a jail term after being found guilty of various charges, including one I had not seen before, namely 'influence peddling'. There are a few marketing agencies, who spout the merits of influencers, that could be in the dock on similar charges soon. Ba-dum ching! Thank you, and good night.