....... 'Car & Phone' actually
Hello again, and a very happy Monday to you all. At least the weather's nice eh…
"You're exposed to roughly a thousand advertising messages per day…name me one from yesterday!"
I thought I'd share a couple of great little ideas from AdLand this week. Ones that've fulfilled Dave Trott's challenge, which the old master opens almost every talk with; "You're exposed to roughly a thousand advertising messages per day…name me one from yesterday!" Well these ones have stuck in my mind and more importantly got me thinking.
The first is a print ad for Volkswagen by Grabarz & Partner, Hamburg. They're advertising their new cruise-control system, which monitors the distance from the car infront and adjusts your speed accordingly.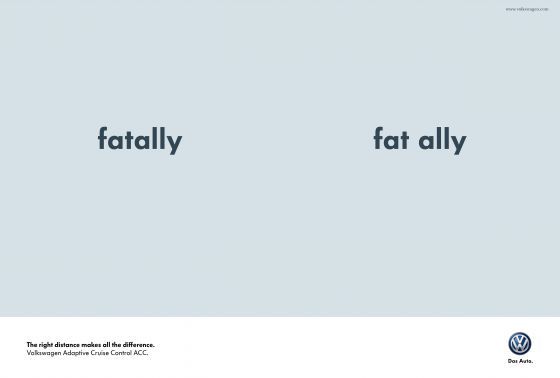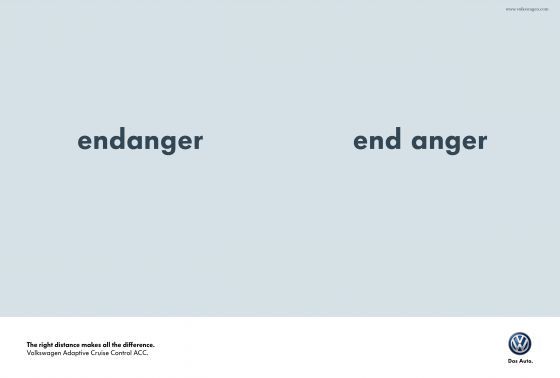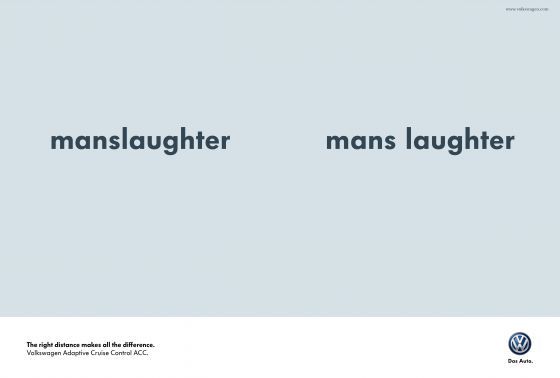 The words on the left are ones that you'd associate with car crashes and dangerous driving of course, but the space in-between turns them into two harmless words (as long as 'fat ally' isn't referring to blubbery old Mussolini - he definitely wasn't harmless). The concise strap line works perfectly; 'The right distance makes all the difference'- it's all rather clever I must say.
The 'putting words together' idea in these ads, also reminded me of some of the funniest cock-ups in that department from recent years. Everyone must surely know the #Susanalbumparty fiasco. But there are some domain-name corkers too. My favourites are;
Mole Station Native Plant Nursery - molestationnursery.com
Cumbria Storage Systems Ltd. - cumstore.com
Powergen Italia - powergenitalia.com
Pen Island - penisland.com
Who Represents ltd. - whorepresents.com

Anyway, perhaps I'm pre-disposed to notice any ads from Volkswagen; my current book waxes lyrical about their ads from the '60s. The book is another classic from Drayton Bird's reading list, which I'm crawling through; 'Positioning' by Al Ries and Jack Trout. It's a little dated in places, but all the key principles expounded are still valid. And it's a cracking read to boot. Ries and Trout use Volkswagon as a positioning exemplar. When everyone in the U.S was buying hulking gas-guzzlers, Bernbach created a whole new category with ads like this;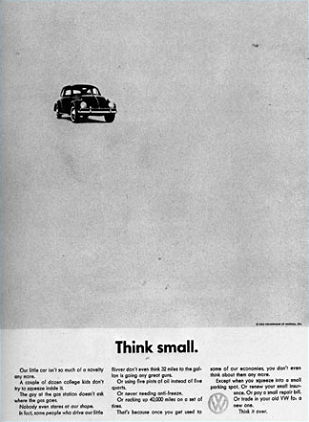 The next cracker of an idea that's really stayed with me is this one from Sanofi, by Geometry Global, Moscow. You may have noticed it today if you're one of the Gasp Twitterati (if you're not…sort it out). They've integrated an iPhone case/pill-box with an app, which will tell you exactly when and which pills to take. I think it's a lovely idea; the box looks well-designed and colourful, and the app looks intuitive and interesting.

The only potential stumbling block is, there's a slight disconnect between the majority of pill-box owners and the people that have iPhones with funky apps. I may be well off the mark here, but the only person I've ever seen with a pill-box is my dear old Grandpa, who's still going strong by the way.
One Christmas we got him a mobile phone, so that he could call his girlfriend (that's right; he has a girlfriend the old scamp) on the way home from bowls, and in case his car broke down etc. We set it up for him, gave him a tutorial and so on.
The following Christmas, we enquired how he'd got on with his mobile phone and if he was using it.
'Jolly good, thank you' he lied.
When pressed, he took it out of the draw to show us. I turned it on for him, and texts started coming in thick and fast. The first one was from my Dad, dated Christmas Day the previous year.
He hadn't even turned it on once since then. We all thought it was funny, including Grandpa, who told everyone that'd he had one year old- 'telexes on his mobile telephone'.
Now I know plenty of tech savvy people have pills to take too. I'm just saying this probably won't be the 'big idea' for Sanofi, which becomes a mass-adopted moneymaker. Which is a shame, because like the Volkswagen ads, it's a lovely little idea.