Forget following the crowd, let's all go 'Stranger Things' (that is, retro).
The Blogfather starts as he means to go on, with his first blog of 2018 taking a 2-by-4 to pretty much anything that moves (Except Poundland. He likes them).
Are there any immediate signs of change? The world still seems as nuts as before.
So here we are, a couple of weeks into 2018. Are there any immediate signs of change? The world still seems as nuts as before. The swathe of 2018 prediction blogs has no doubt faded from your memory already (understandably so), and only one look at what The Drum cobbled together serves as a reminder as to why they are a waste of time:
"AI and Big Data will continue to be on the agenda for 2018." – OK. Nothing earth-shattering there.
"The goal of digital marketing stays the same." – Cheers mate.
"Digital is now ubiquitous in all marketing strategies." – Revelation.
"2018 will see a shift in clients from being overly focused on single channel delivery to a solution-based approach." – Sounds impressive, whilst not really telling us anything other than people want solutions. #JargonBullshitAlert
The usual suspects, like AI and VR, get thrust out to centre stage, with whispered promises in their ear that 2018 is going to be their year, but the gorgeous parody cartoon below on the future of marketing and the 'smart home' sums up the over-fixation on all these fads perfectly (from the ever-great Marketoonist).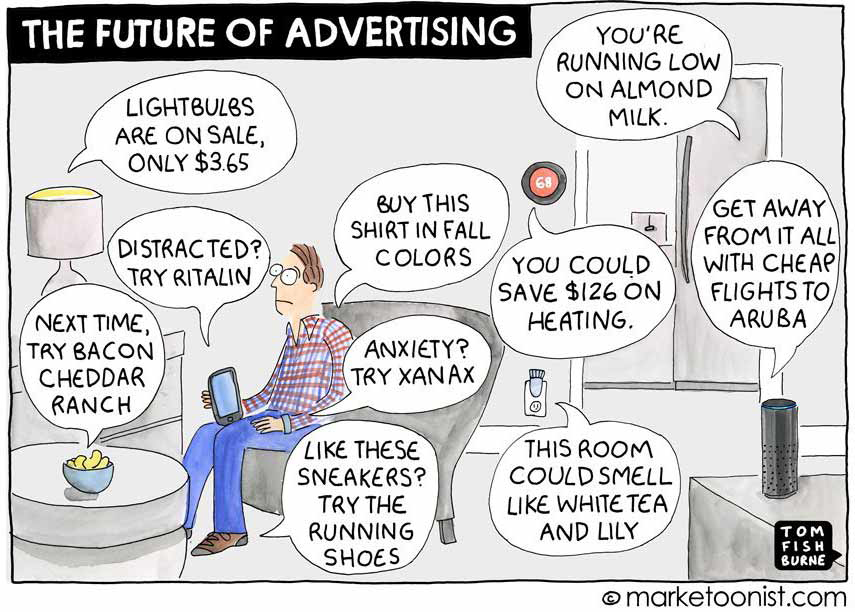 ...the truth is that any brand can still live and die by the humans they employ to interact with customers.
On the subject of annoying automated voices, a trip across London this week led to a realisation that the classic red London bus is almost a metaphor encapsulating where marketing is currently at. Sounds weird right? But run with me.
Firstly, there's the ad posters stuck up on the ceiling with text at 90 degrees to the forward-facing passengers so you have to crane your neck to read them, and a gloss finish that catches the light, rendering them barely legible. Dodgy ad placement and viewability issues? Sounds like online advertising.

Secondly (and this one got a bit of coverage on social in recent days), there is a new automated announcement of "Please hold on, the bus is about to move". Trouble is, it invariably goes off when the bus is already in motion. And after Every. Single. Stop. An unnecessary, automated service suffering from a technical glitch, implemented due to a fear of getting in bother with the public? That's the industry's obsession of using over-hyped tech, and the current climate where fear of getting into a social media storm permeates through everything.
Talking of social media storms, one of the most refreshing things of recent weeks was the Poundland naughty elf Christmas Twitter campaign.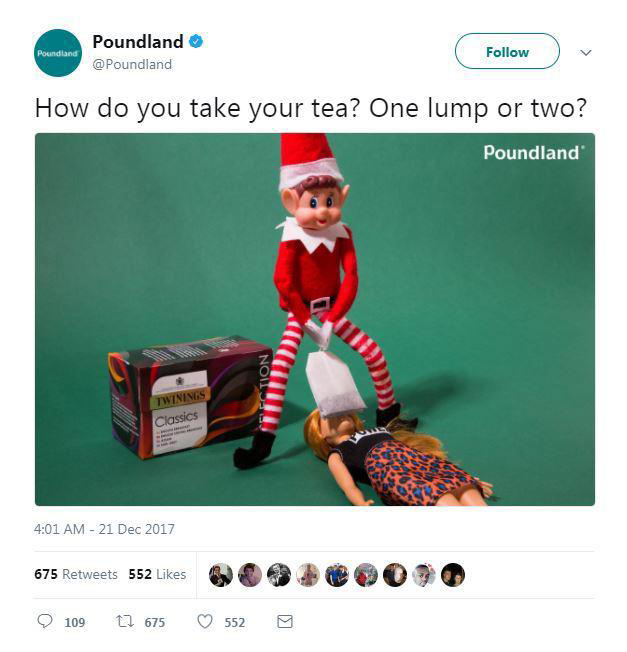 Twinings, as you'd imagine, distanced themselves from the tweet, as teabagging was'nae "in line with their brand values" the last time they checked the guidelines. The ASA launched a probe, so badge of honour achieved there, while the campaign reportedly only cost £25.53, and got Poundland a shed load of great, positive coverage. Genius.
Somewhat contrastingly, Virgin Trains got it all so very wrong on social, and ended up in a media pickle with this sexist tweet.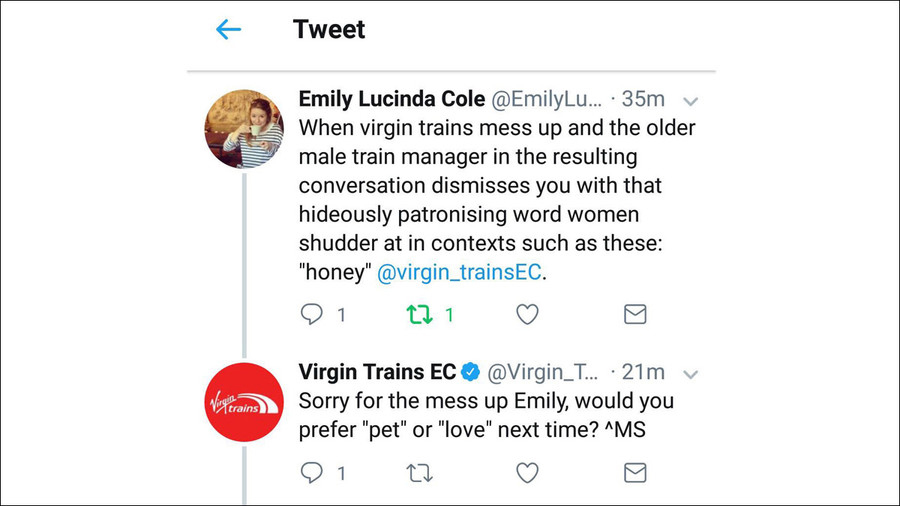 Virgin's tone of voice is playful and tongue in cheek. Clearly, they gave the T of V guidelines and the Twitter login to a temp over Christmas and said; 'away you go, love'. Assumingly, Virgin Trains use the same temp recruitment agency as the Hawaii Emergency Management Agency, where someone pushed the 'wrong button' and sent out this absolute rascal of an SMS: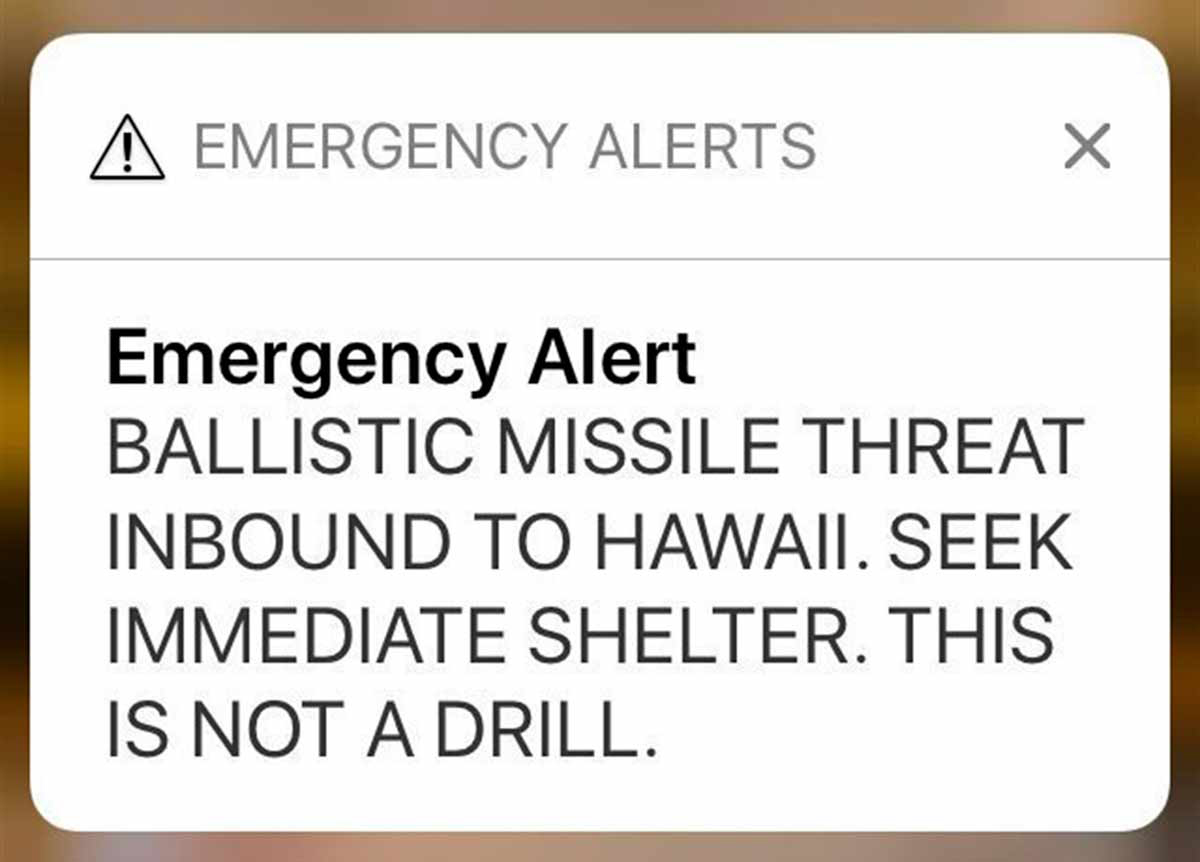 "There are roads which must not be followed, armies which must not be attacked, towns which must not be besieged, positions which must not be contested, commands of the sovereign which must not be obeyed." Sun Tzu, The Art of War
I imagine a few people choked on their bacon sandwiches when that one popped up on their mobiles.

For all this talk of automation, of tech, of artificial intelligence, the truth is that any brand can still live and die by the humans they employ to interact with customers. Be it at the point of purchase in store, or on social. Wherever. This won't change anytime soon.
So maybe we need to look back to the past, to go forward. Marketing has, to a degree, lost sight of what is important. Maybe we should take a lead from Stranger Things, which unashamedly took its inspiration from a whole host of iconic stuff from the 80's.
Maybe 2018 will see more boisterous tones of voices being belted out, as businesses seek some differentiation in a sea of shackled strategies.
Ah, strategy. Strategy always has been and always will be important. Strategy has to form the roots, trunk and branches of all you do. And, crucially, what you don't do. A visible fruit may end up being some of your customers donning a VR headset, or it may not (it almost definitely won't). Another bloom may see people who can be classified as Post Grad Nest Builders targeted, or it may not. That's secondary.
So focus on strategy, take a few risks, get your 80's clobber out the wardrobe and watch the Goonies, and you'll have a good 2018.
Hey, you know we are great at strategy, love the 80s, and have taken a few risks in our time, right?
We'll stick the kettle on and pop down Poundland for some Twinings tea bags.